Berrien County 4-H alum is now a business owner
Michigan 4-H contributes to the success of a local entrepreneur.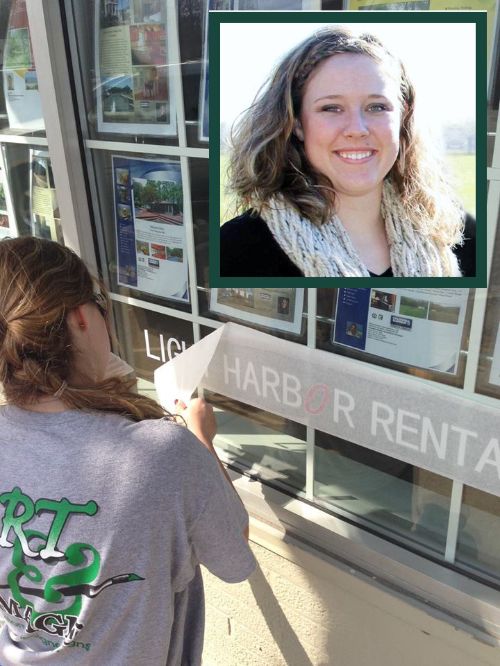 I had the pleasure of visiting with one of our Berrien County 4-H alumni recently, Kaitlynn Miller of New Buffalo, Michigan. Miller was a member of our River Valley Wranglers 4-H Club for several years and graduated from River Valley High School in Three Oaks, Michigan, in 2007. She is now a successful business woman as owner of Art & Image of Harbor Country, a custom signs and graphics business in New Buffalo.
How did Miller become an entrepreneur? Michigan 4-H played a role. Among other projects, she excelled in leadership and anything related to horses. In addition to serving in multiple club officer roles, Miller was the 2003 and 2004 4-H Versatility Reserve Champion. She received the 2007 I Dare You Leadership award and the Berrien County 4-H Alumni Scholarship in 2008. Both versatility and the alumni scholarship provided financial awards that helped with educational expenses.
Miller shared that 4-H helped her build leadership and organizational skills in addition to confidence and relationships that are still beneficial today. Although she was never club treasurer, she learned money management practices by watching her fellow 4-H members and her parents, Lisa and Tom Rossman, as club coordinators. All of these life skills positively contributed to the future entrepreneur.
As a Bulldog, Miller graduated from Ferris State University in December 2012 with a unique package of degrees: a bachelor's of science in print management with a minor in business, integrated marketing techniques with an emphasis in graphic design. She also holds an associate of applied science in graphic design. What a combination!
That brings us to present day. Miller's business, Art & Image of Harbor Country, makes signs, banners, boat and vehicle lettering, decals, trade show displays, blue prints, posters and much more. Miller also does design for printed work, but currently does not have the printing capability in her shop.
According to Miller, the perks of being an entrepreneur include:
You have full control of marketing and business image.
In addition to your customers, the only person you have to answer to is yourself.
For the most part, you get to set your own work hours.
You have a great sense of pride in the community.
She also shared some of the challenges associated with having your own business:
You are obligated to the business.
It is hard to take time off when you are the only employee.
Currently, it is common to work long days; 10-11 hours per day on average.
When Miller needs an extra helping hand, she first turns to family. Her brother, Nick Rossman, helps out on occasion, as does Miller's mom, Lisa, and Miller's husband, Brad Miller. She also had a student intern join her last summer. Miller especially likes the way her business allows her to combine her design skills with the hands-on way of doing things that she learned through 4-H.
Miller is now a 4-H volunteer project leader in the club she grew up in and, alongside her dad, Tom, is assistant coach of the Berrien County 4-H Horse Judging Project. When Miller is not working or helping 4-H, she is coach for the River Valley Equestrian Team and is a proud member of the Mid-America Cowgirls Rodeo Drill Team based in Three Oaks, Michigan.
Are you inspired? Miller may be contacted at kmiller@artandimage.com. To learn more about the positive impact of Michigan 4-H career preparation, money management and entrepreneurship programs, read the Impact Report: "Preparing Michigan Youth for Future Careers and Employment."