Best Friends 4-H club builds employability skills
Michigan State University Extension volunteers use canine partners to assist youth with disabilities in developing employability skills.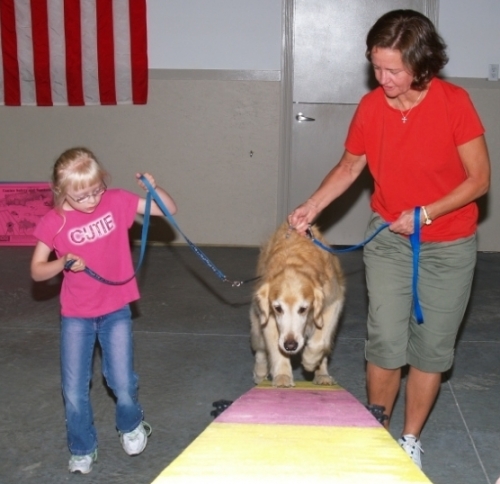 Who would have thought mixing companion dogs and youth with disabilities would yield a
unique 4-H experience while enhancing employability skills? Berrien County's Best Friends 4-H Club – and they have been doing so for 24 years.
If a person has mastered basic employability skills, such as the ability to communicate and make decisions, and the individual has a willingness to learn, then that person can be trained in the specifics required to perform a job. In support of Michigan 4-H Guiding Principles and our National 4-H Essential Elements, Best Friends teaches more than dog care and management, healthy competition and team building. Best Friends 4-H Club has adapted many of the principles
and practices of the Michigan 4-H Proud Equestrian Program as a model of inclusive programming.
Whether the focus is dog care, obedience, showmanship or agility, trained and screened volunteers assist Best Friends 4-H club members to learn and practice the following employability skills by working with their canine partners:
Work aptitude – the ability to remember and follow instructions and procedures
Responsibility
Self-confidence
Motor-skills – eye/hand coordination and mobility
Communication skills – the ability to express oneself and interact with others
Interpersonal skills – positive attitude, cooperation and teamwork
These employability skills are demonstrated during our annual 4-H Spring Achievement as part of the dog evaluation and demonstration that began in 2004. This event is an annual spring-time public exhibition that provides 4-H members an opportunity to share and explain what they have accomplished through their 4-H projects.
A recent analysis of our project evaluation data showed that over the last nine years, upwards of 100 percent of participants with disabilities received originality awards for their creativity and original presentation of their canine during the evaluation and demonstration. More than 80 percent have achieved outstanding workmanship awards for the effort youth demonstrated with their canine partners. And, in 2011, 100 percent of participants with disabilities were awarded presentation awards for their ability to communicate and present their canine project.
The experiences and learning taking place in the Best Friends 4-H Club result in employability skills that our youth will use throughout their entire lives.