Beyond whole wheat bread: students sample healthy whole grains at school
Belding Middle School students tried new whole grains during lunch in a food demonstration. Whole grains will be appearing more often on school menus – and some of the students might just like the taste.
On October 30, 2013, Belding Middle School students got a chance to sample some new foods that feature whole grains. Students tried quinoa, wheat berries and whole wheat flour. The quinoa was in a baked breakfast dish, the wheat berries were used in a salad with corn and peas, and the whole wheat flour was used in chocolate chip cookies.
The tasting was the project of Lori VanSlembrouck, registered dietetic technician who is interning at Belding Area Schools as part of her program with Western Michigan University. Those studying to become registered dieticians complete rotations through different placements including community nutrition, school food nutrition, wellness and clinical settings. For the four weeks, VanSlembrouck is working in school food nutrition; she is working on projects with Tracy Nelson, the Belding Area Schools Food Service Director. "This food demonstration was a competency for my internship … my goal was for students and staff to try something they may never have had," VanSlembrouck explained. "When the students read the signs for "wheat" they were turned off and afraid to sample the food."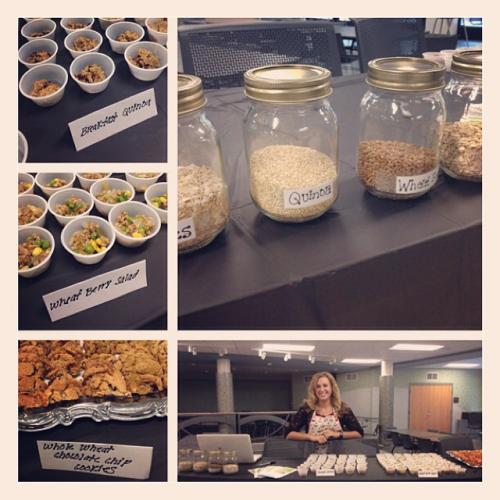 The food demonstration was accompanied by a valuable lesson about whole grains. VanSlembrouck explained to the tasters that whole grains contain higher amounts of protein and fiber. She further instructed that these factors leave the diner more satisfied as well as helping to prevent diseases like diabetes, cardiovascular disease and high blood pressure. "I thought it was important for the students to sample whole grains to expose them to other options besides wheat bread, pasta and brown rice," VanSlembrouck said. Along with the samples and demonstrations at lunch, VanSlembrouck presented to 6th graders about healthy snacking where she covered proteins, fruits and vegetables. "I was very surprised at how much these students knew already."
Students at Belding Middle School tried the foods in the cafeteria during their lunch period and had a chance to see the uncooked versions of what they were eating. The demonstration showcased oats, barley, quinoa and wheat berries in glass jars and a brochure called "Great Grains" that outlined the nutritional information as well as the recipe for the quinoa dish. This is just one opportunity for students to taste new foods. Nelson will have more help from another intern rotating through and other programs are planned.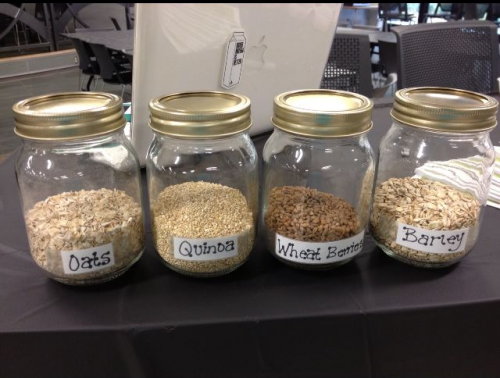 The introduction of these new foods to students was valuable because more whole grains are now required by the National School Lunch Program and School Breakfast Program's nutritional guidelines that are set forth by the USDA's Food and Nutrition Service. For the 2013-14 school year, "half of the grains offered during the school week must meet the whole grain-rich criteria" on both the breakfast and lunch menus. This means that students will have more opportunities to taste a variety of whole grains at school.
Educators from Michigan State University Extension are available to help local schools with similar projects. To learn more, visit the Community Food Systems webpage.
Breakfast Quinoa
Ingredients:
1 cup dry Quinoa
1 cup water
1 cup Milk/Soy Milk
2 cup Berries of your choice
½ tsp cinnamon
4 tsp Honey/Agave Nectar
1/3 cup chopped pecans, toasted
Cooking Instructions:
Combine milk, water and quinoa and bring to a boil
Reduced heat and simmer covered approximately 15 minutes or until all liquid is gone
Stir in fruit, cinnamon and pecans,\
Drizzle honey, toss and serve
Photos and recipe courtesy of Lori VanSlembrouck and Tracy Nelson