Birdsfoot trefoil fills a forage need on many Michigan farms
Though not as common or widely planted as alfalfa or red clover, birdsfoot trefoil has desirable characteristics in specific situations.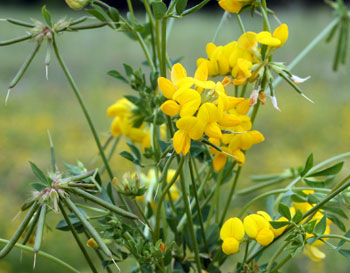 Birdsfoot trefoil, Lotus corniculatus, seems to have dropped out of favor in Michigan pastures and hayfields. This is too bad, because birdsfoot trefoil is very well adapted to the Michigan environment and still has a lot to offer. Alfalfa will out-produce birdsfoot trefoil by 50 percent or more on well-drained, fertile soils, but on soils that are too poorly drained to support alfalfa, birdsfoot trefoil is more likely to thrive. It is also more tolerant of acidic soils than alfalfa. These two characteristics alone make it a reasonable choice and recommended by Michigan State University Extension for use on sites with these kinds of adverse growing conditions.
In addition, birdsfoot trefoil is a perennial and reproduces itself by reseeding. Like alfalfa and clover, birdsfoot trefoil is a legume and fixes nitrogen from the atmosphere as long as the proper seed inoculant is used at the time of planting. From a nutritional perspective, grazing birdsfoot trefoil supports cattle gains of up to 3.5 pounds per day while improving plant protein use by livestock, reducing nitrogen losses to the environment, and reducing greenhouse gas production. As a bonus, birdsfoot trefoil consumed by grazing animals does not cause bloat and helps alleviate fescue toxicosis. Recent research at Michigan State University and other locations indicates grazing birdsfoot trefoil may also help naturally control gastrointestinal parasites in sheep and goats.
Birdsfoot trefoil can be grown in pure stands, but is usually planted in combination with one or more forage grass species to improve overall forage yield potential and support birdsfoot trefoil stems. Its structure is less erect than alfalfa, reaching a height of up to 12 to 20 inches, depending on variety. Prostate stems may be considerably longer. On clay soil areas in the Upper Peninsula, timothy/trefoil stands are common since one- or two-cutting systems prevail and the clay soils in the region are somewhat poorly drained.
Birdsfoot trefoil is slow to establish and vulnerable to competition from other plant species during establishment. Early spring seedings are generally more successful in Michigan than summer seedings. Care must be taken to ensure good seed-to-soil contact and an acceptably low level of competition from companion crops or weeds to developing birdsfoot trefoil seedlings. If a small grain nurse crop or perennial companion grass is used, it is a good idea to use a relatively low seeding rate of nurse crop/grass and remove the nurse crop/grass when it reaches 8 to 10 inches in height. Be patient while birdsfoot trefoil establishes because it may take a year to see a vigorous stand.
Once established, good harvest management will be needed to allow adequate regrowth and seed set and dispersal. In contrast to alfalfa, birdsfoot trefoil regrowth originates from buds on the stem rather than from the crown, so it is important to leave enough stem at harvest. Birdsfoot trefoil does not maintain as much root reserves as alfalfa and must be given time to build up before the next harvest. The first harvest of trefoil as hay should take place when the stand reaches 10 percent bloom. Nutritional quality will still be excellent at this stage because mature birdsfoot trefoil holds its nutritional quality better than alfalfa. The second harvest can be taken after full flowering and seed set. Under grazing, some lower stems tend to survive mowing or grazing and are able to set seed that results in new plant establishment. Birdsfoot trefoil stands survive a long time because of reseeding, not because individual plants have great longevity.
The variety Norcen has excellent winter hardiness and is the most widely grown birdsfoot trefoil variety in northern Michigan. Other varieties adapted for the region include Empire and Viking. Empire and similar varieties are well-adapted to grazing since they have fine stems, a more prostrate structure, and an indeterminate growth habit; they continue to grow after flowering. Norcen and Viking are considered 'European' types, are more upright in growth, and are suited to harvest as hay and haylage as well as by grazing. Because birdsfoot trefoil stands are managed to encourage reseeding, cross-pollination with other varieties is common resulting in a gradual decline of stand purity. So, if you buy birdsfoot trefoil seed from an old stand of Norcen, it will likely consist of some Norcen and some seed resulting from cross pollination from other varieties growing nearby. This seed may or may not be equivalent to the original Norcen. To avoid this problem, buy certified seed.
Birdsfoot trefoil has some great qualities and can contribute to good forage production on many Michigan farms.
For details on birdsfoot trefoil, see the North Central Regional Extension Publication 474, "Birdsfoot trefoil for grazing and harvested forage."
For more information, contact Jim Isleib, Extension educator, at 906-387-2530 or isleibj@anr.msu.edu, or Kim Cassida, forage specialist, at 517-355-0271 ext. 1194 or cassida@msu.edu.
Photo credit: Kim Cassida, MSU