Bite into a healthy lifestyle with National Nutrition Month
Learn ways to make healthy steps in your life during the month of March.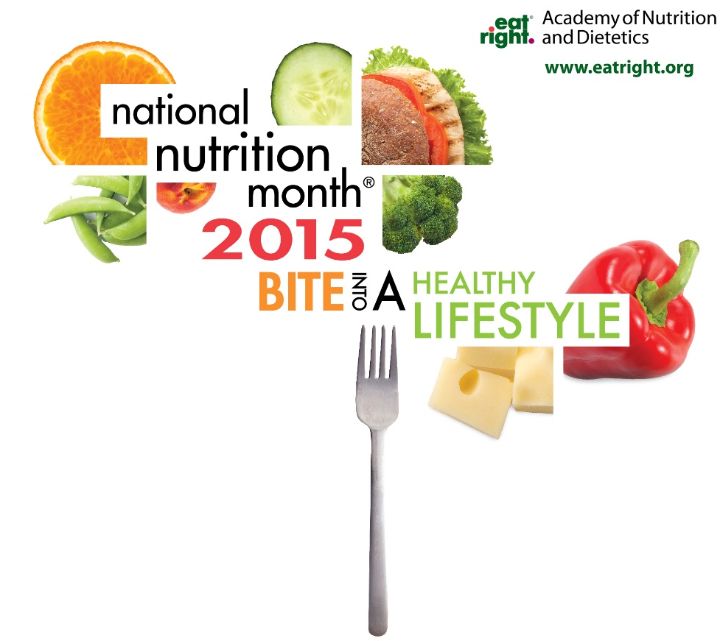 It's March again and that means it is National Nutrition Month®! Created by the Academy of Nutrition and Dietetics, this year's theme is Bite Into A Healthy Lifestyle, which "encourages everyone to adopt eating and physical activity plans that are focused on consuming fewer calories, making informed food choices and getting daily exercise in order to achieve and maintain a healthy weight, reduce risk of chronic disease and promote overall health.
What is National Nutrition Month®?
National Nutrition Month® is an annual health awareness campaign created by the Academy of Nutrition and Dietetics. The purpose of this yearly campaign is to bring attention to the importance of developing good eating and physical activity habits, including 30 minutes of physical activity per day as recommended by the Centers for Disease Controls and eating a balanced meal according to MyPlate.
How can I get involved?
There are many ways to promote and participate in National Nutrition Month®. Not only can you promote and attend events around your community, but also take part by making small changes to your own eating and physical activity habits.
Recently the nation's experts in health and nutrition made recommendations for the upcoming 2015 dietary guidelines. The committee made clear and strong recommendations to increase our intake of fruits and vegetables, the number one priority in maintaining a healthy diet. It may seem overwhelming at times but a few small changes can surprisingly make a world of a difference in the way that you look, feel and in your overall health status. Below are a few ideas that can help you dive into National Nutrition Month®, one bite at a time!
Bite 1: Promote a health and wellness activity at your workplace, like a weight loss competition or a healthy eating challenge. These types of programs promote healthy practices while at work, as well as give people a way to escape and take a break from the everyday stresses of a workday.
Bite 2: Take the stairs instead of the elevator! Walking promotes blood flow to the limbs as well as increases the speed of our metabolism when done on a consistent basis. Walking also gets your heart rate up which can help burn calories. Read more about the benefits of walking from the American Heart Association.
Bite 3: Add one new fruit or vegetable to your diet per week. You can try the new fruit or veggie in a fun new recipe or by themselves; and don't let budget deter you. You can buy fresh, frozen or canned fruits and vegetables to try. Just make sure if they are canned, you get the ones that are low sodium and sugar. You can find some great, low cost recipes from the U.S. Department of Agriculture.
Bite 4: Have fun! Include your loved one in your journey to better health. They can help support you and encourage you to reach your goals!
Remember, living a healthier lifestyle doesn't have to be hard. Small changes make big results when you stick with it and believe in yourself. Visit Michigan State University Extension for more information on our health and nutrition programs.
Did you find this article useful?
---