Blueberry pollination workshops on November 4, 2015
Workshops designed to give blueberry growers a better understanding of pollination during bloom.
October 7, 2015 - Author: Mark Longstroth, Michigan State University Extension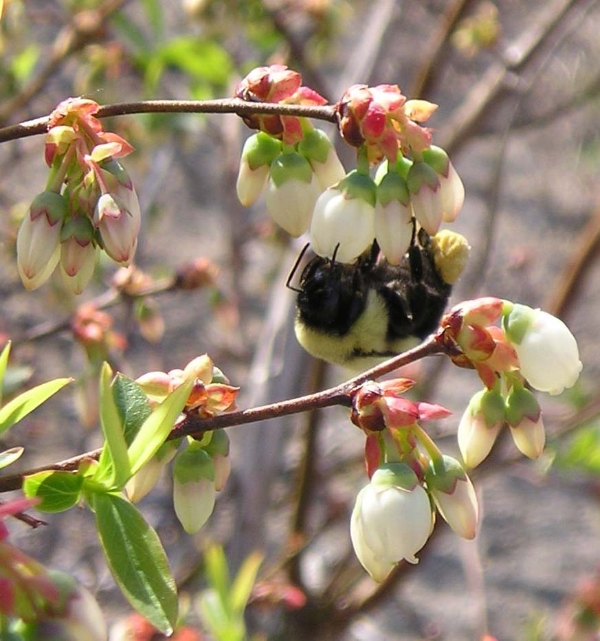 Michigan State University Extension and the Xerces Society are hosting a pair of Blueberry Pollination Workshops on Wednesday, Nov. 4, 2015, at the Trevor Nichols Research Center near Fennville, Michigan, 6237 124th Ave. Fennville, MI 49408. These workshops are designed to give growers a more complete understanding and better control of pollination during blueberry bloom.
I will cover the importance of pollination to blueberry production. Katharina Ullmann and Emily May of the Xerces Society will introduce the concept of integrated crop pollination. Jason Gibbs of MSU Department of Entomology will identify different bee pollinators. MSU entomologist Rufus Isaacs will discuss farm practices to increase pollination and those that support wild bee pollinators. Meghan Milbrath of the Michigan Pollinator Initiative will discuss increasing communications with commercial beekeepers. There will also be a hands-on bee identification session and a field protocol to assess pollination during bloom.
Both workshops are identical, with one from 9:30 a.m. to noon and one from 6:30-9 p.m. There is no charge for these meetings, but please RSVP by registering at the Blueberry Pollination Workshop Event page to allow an accurate count of refreshments and materials. Three RUP credits will be available to attendees.
These workshops are sponsored by Project Integrated Crop Pollination. For more information, contact me at 269-873-8983 or longstr7@anr.msu.edu.
---