Blueberry Twilight Meetings start next week in Van Buren County
We are beginning our Blueberry IPM Twilight meetings. The first two meetings will be on Wednesday, May 2, in Van Buren County, and on Tuesday, May 8, in Ottawa County.
Twilight blueberry management meetings will start in Van Buren and Ottawa counties. These meetings are designed to keep blueberry growers abreast of conditions in the field during the growing season. These meetings are planned for bloom and just before harvest. The same meeting will be held in Van Buren County for southern growers and then repeated the next week for northern growers in Ottawa County. Each meeting will feature MSU Extension specialists and educators speaking on recent developments and upcoming events in blueberries.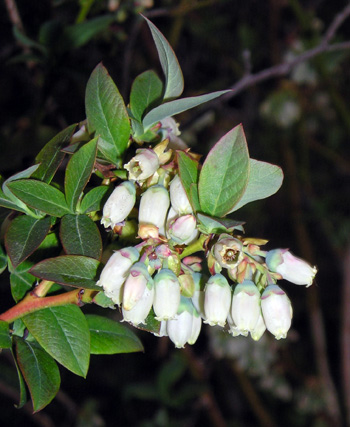 The first pair of meetings will begin next week. There is a $10 charge that covers dinner and handout materials, and will be collected at the door. The meetings will take place from 5:30 to 8 p.m. A light dinner will be served at 5:30 p.m. The educational talks will begin after dinner at about 6 p.m. Two RUP credits will be available to those that attend the meetings.
Growers interested in submitting disease samples for identification should bring them to these meetings. MSU's Annemiek Schilder is interested in collecting more virus samples for her survey of blueberry virus diseases. We will be able to identify many samples at the meeting. Be sure to include your name and contact information with all samples so we can contact you later with a positive ID.
On Wednesday, May 2, the meeting will be at True Blue Farms, 9548 Country Road 215, Grand Junction, Mich. (view map). Please call the Van Buren County Extension office at 269-657-8213 to RSVP for meal count or email Mark Longstroth.
On Tuesday, May 8, the meeting will be at A & L Farms, 11901 144th Avenue, West Olive, Mich. (view map), located a half-mile north of M-45. Please call or email Judy Hanson at the Ottawa County Extension office at 616-994-4548 to RSVP for meal count.
We encourage all blueberry growers to attend these important updates.
The agenda for the May meetings includes:
Rufus Isaacs, MSU – bloom and post-bloom insect control and effective insecticide use
Eric Hanson, MSU – post-bloom weed control in blueberries
Mark Longstroth, MSUE – irrigation in blueberries
Carlos García, MSUE – winter and spring cold injury in blueberries
Annemiek Schilder, MSU – disease control after bloom and effective fungicide use
A flyer for these bloom meetings is posted at the Michigan Blueberry Facts website.
The second pair of meetings is scheduled for early June to focus on preharvest and harvest issues in blueberries. These preharvest meetings are scheduled for Wednesday, June 6, in Van Buren County, and Wednesday, June 13, in Ottawa County.
Did you find this article useful?
---
You Might Also Be Interested In