Books and babies
Why should you introduce books to your baby?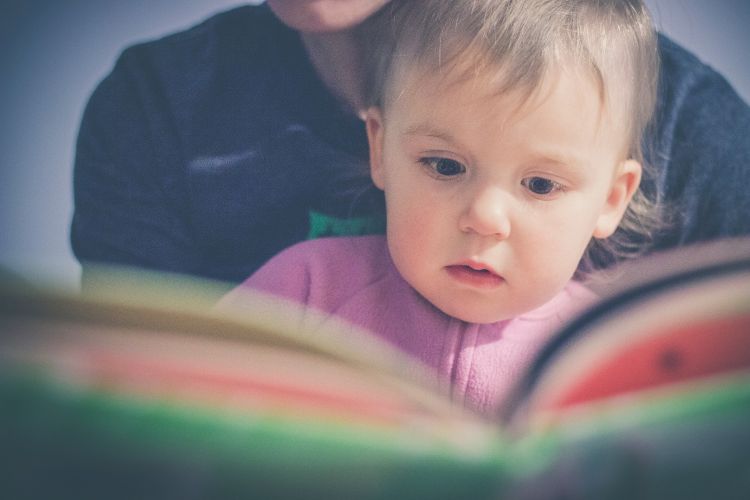 Is reading to babies really important? Yes! Reading to babies is so important to the brain development that is occurring during the first three years of life. A baby's brain will triple in size during the first year of life. Reading aloud and talking with your baby will feed the baby's brain 10 million words each year in the first three years of life.
Many people think learning to read is something that happens when their child starts school, but learning to read actually starts much, much earlier than this. Research shows that the earlier babies are exposed to reading, the more they will enjoy reading and learning and the better they will perform in school. They will develop a lifetime love of reading, which is so important for future success.
Reading to your young child can also help with speech development as they listen to the tone and rhythm of our voices. While they might not understand what you are saying, your baby is taking in the sounds of language and how words all fit together.
As you name and point to an object in a book, say what it is, such as "brown bear." They will begin to make the connection between the object and what we say. The more we read the book, the stronger the connection between the object and the spoken word becomes. Next time, ask your baby to find the bear, cow or horse when you point to it.
Reading books is a great way to develop a child's vocabulary—first understanding vocabulary and eventually speaking.
Michigan State University Extension recommends the following tips when reading to babies.
Keep it short. Read a maximum of 10 – 15 minutes, once or twice a day. Keep in mind you may not get through the whole book.
What to read? At first, read what you want. About 6 months old they like to look at images they are familiar with, like other babies, animals and basic objects. Fabric and board books allow a baby to explore books with all of their senses, including taste. It is OK if they "eat" the pages. Children learn best when they are able to use all of their senses.
Repetition. All kids like the ability to predict what is happening next and this is true for babies as well. Reading a book over and over again, a baby will know when the funny part is coming and get excited by the changes in your voice.
An experienced reader. At approximately 1 year old, babies will be able to flip pages in a book. They will also stop tasting them so it could be a good time to introduce paper books.
Offer a variety. Reading poetry and nursery rhyme books help young children develop phonological awareness and the ability to hear familiar words over and over again. They also introduce children to words they won't hear in every day conversations, such as "glum" or "dreary" in the "Pout Pout Fish" book. (watch the Pout Pout Fish video.) Also non-fiction, informational books let kids become an "expert" in something, which builds self-confidence in toddlers.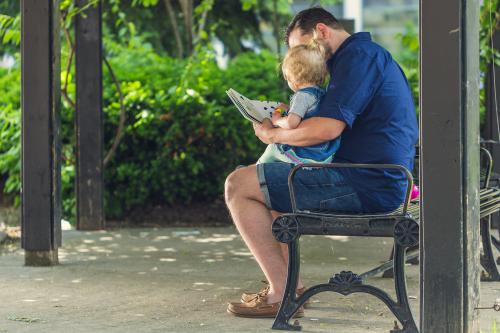 When choosing books for babies, books with black and white pictures are the best. Also, books that are easy for them to hold and manipulate are preferred. Most books in paper version can also be found as board books as well. Young toddlers who like peek-a-boo-type games really enjoy lift-a-flap books. These types of books require the child to lift a flap to find a hiding picture.
Approximately one-third of kindergarteners are not exposed to books at an early age and begin school without the language skills they need to learn to read. Studies show that hearing language from a television is not the same. For young children, words need to come from a person who can engage them in a book and respond to their efforts at language.
Remember, we are not teaching children how to read at this age, but providing them opportunities to build foundational skills necessary for future reading.
Other resources:
To learn about the positive impact children and families experience due to MSU Extension programs, read our 2016 impact report: "Preparing young children for success" and "Preparing the future generation for success." Additional impact reports, highlighting even more ways Michigan 4-H and MSU Extension positively impacted individuals and communities in 2016, can be downloaded from the Michigan 4-H website.