Boyne City receives planning grant to expand winter farmers market
"Boyne City Main Street Program" explores expanding their winter farmers market.
The Boyne City Main Street Program has been awarded a $12,500 planning grant from the Michigan Economic Development Corporation (MEDC) to determine whether the Veterans Park pavilion could be upgraded to host a winter farm market. The MEDC provides competitive one-time grants between $10,000 and $50,000 to farmers markets that have been in operation for at least four years and provide at least 50 percent in matching funds. These grants can be used for facility design, amenities, marketing and signage.

The city of Boyne, Mich. was chosen from ten Michigan farmers market projects and has matched the grant with an additional $12,500. The plan will be to convert its Veterans Park pavilion into a multi-activity structure with heat, kitchen, stage and storage to house their permanent winter farmers market.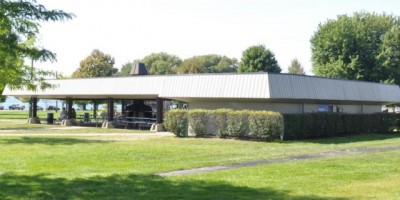 Photo: Future site of Boyne City's winter farmers market
"Boyne City was one of the first communities in Northern Michigan to establish a "winter" farmers market, utilizing a vacant downtown storefront" explains Andy Hayes, president of Michigan State University Extension partner Northern Lakes Economic Alliance. "They have done a great job of looking for opportunities to support local agriculture while also enhancing the local community and its quality of life. This is another example of their proactive approach".

"Michigan's community farmers markets have helped re-energize the enthusiasm for connecting with our agricultural roots. As a matter of fact, Michigan ranks fourth in the nation for the number of farmers markets," said Jamie Clover Adams, director of the Michigan Department of Agriculture and Rural Development.

Boyne City is excited about the opportunity to utilize the $12,500 MEDC planning grant to fully explore the opportunity to transform the Veterans Park pavilion into a multipurpose community resource that can be used year-round.