54th annual Branch County Farmers Day to be held February 20, 2023
MSU Extension will host educational programming in Coldwater, Michigan to continue the legacy of this long-standing outreach event.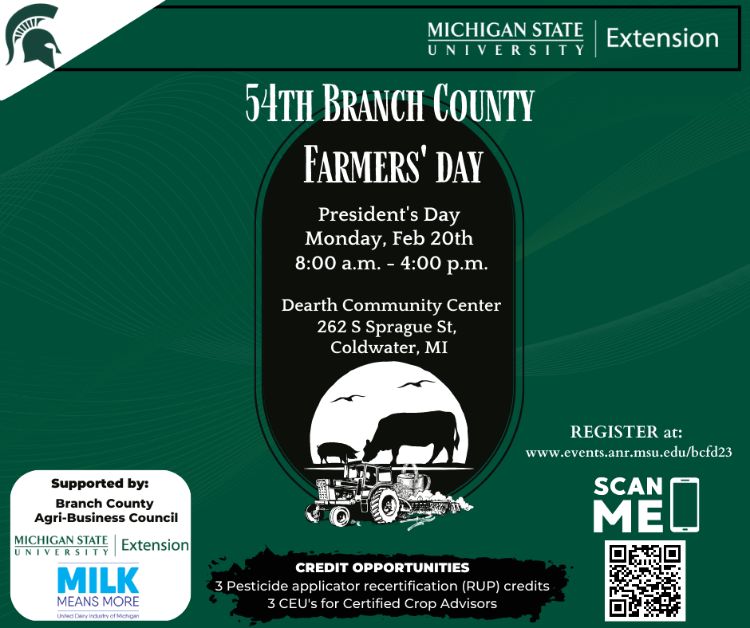 Times change. People change. Trends change. Recommendations change. Pandemics cause all sorts of changes. Are there some things that are so important that they are worth keeping?
Branch County Farmers Day has been a staple for the agriculture community in Branch County for over 50 years. Historically, the event brought farmers, agribusiness vendors, and MSU Extension agriculture educators and specialists together for a day of networking, viewing and discussing new agricultural products and services, conversations over a light lunch, and educational opportunities on a wide range of topics. As the pandemic threw uncertainty into our lives for a couple of years, and as the membership of the Branch County Agri-Business Council is considering its path forward, the future of Farmers Day is also being reconsidered. One thing is certain: giving local farmers and others in the agriculture community the opportunity to gather, network, and keep up to date on subjects important to agriculture means that some things are worth keeping.

MSU Extension in southwest Michigan will be offering educational sessions to farmers, agribusiness representatives and community members to continue the legacy of Farmers Day. On Presidents Day, Feb. 20—the day when Farmers Day has traditionally been held—the sessions will be offered from 8:00 a.m. to 4:00 p.m. at the Dearth Community Center (262 S Sprague St, Coldwater, MI).
Register for the Branch County Farmers Day 2023
Schedule
8:00 a.m. Check-in and light breakfast
8:30 a.m. Marketing and Input Strategies: Walking the Tightrope of Farm Profitability in 2023.
Jon LaPorte, Farm Business Management Educator, MSU Extension
How are your farm's profits positioned for 2023? Do you have all your input needs secured? Have you marketed any grain to lock in revenue? Learn about key tools and strategies that can help maximize profits for 2023.
9:00 a.m. Irrigation Scheduling: Getting the Most from Your Natural Resources.
Lyndon Kelley, MSU and Purdue irrigation educator
Basing irrigation decisions on some method of scheduling will improve your overall water use efficiency and could save you money. As with most things, it is best to have a plan.
9:30 a.m. Vole Management and Other Soybean On-Farm Research Results in South-Central Michigan.
Eric Anderson, MSU Extension field crops educator
Results from several on-farm soybean trials in southwest Michigan will be shared, including novel research on how to mitigate vole damage.
10:00 a.m. Break
10:15 a.m. Pollinator Protection and Stewardship.
Ana Heck, Apiculture Extension Educator, MSU Extension
Bees need all the help they can get, and farmers are well-positioned to support bee health because they manage large areas of land. This presentation will share programs and practices that aim to support pollinator health by judiciously using pesticides and establishing pollinator habitats.
11:00 a.m. Rotation and N Credit Benefits from Alfalfa.
Kim Cassida, Forage and Cover Crop Extension Specialist, MSU
Alfalfa rotation crops provide N credits as well as other benefits to subsequent crops like corn or wheat. Learn about these benefits and how to take advantage of them.
11:45 a.m. Credits and Evaluation.
12:00 p.m. Lunch on Your Own.
1:00 p.m. Nutrient Management Planning.
Sarah Fronczak, MSU Extension Nutrient Management Educator & Jon LaPorte, MSU Extension Farm Business Management Educator
Nutrient inputs can really impact your bottom line. One way to get the best value for your farm is through nutrient management planning. Planning can help your farm be sustainable both economically and environmentally. We will help develop the right mix of nutrient inputs for your farm and pocketbook, as well as review best management practices for good environmental stewardship of chemical fertilizers as well as manure.
2:00 p.m. Farm Business Management Chat.
Roger Betz, MSU Extension Farm Business Management Educator
Betz will review the 2023 Farm Service Agency choice of PLC versus ARC. Sign up deadline is March 15th. Supplemental Coverage Option SCO and Enhanced Coverage Option ECO will also be discussed. In addition, Betz will have an open question period where producers can ask any question on any farm business management issues.
3:00 p.m. "Rotten Tomatoes."
Ben Phillips, MSU Extension Vegetable Crop Specialist
MSU Extension Vegetable Specialist, Ben Phillips, will attempt the impossible: to make the entire crowd happy. Come one, come all, to witness the greatest spectacle within the immediate vicinity of the bearded guy at the front of the room. Laugh as he prepares to lecture an audience with very different perspectives; cry as he shows at least one line graph, bar chart, or table; sigh with relief when the PowerPoint stops with over 30 minutes left; and be astonished by how we close we still get to the allotted time. This guy can talk vegetables for 4 hours or more but has only 1 hour to do it. CAN HE?
Credits
3 Pesticide applicator recertification (RUP) credits

3 CEU's for Certified Crop Advisors

(SW0.5,

I

PM

1

, CM0.5

, PD0.5, Sust0.5)
Cost
Due to the generous support of the Branch County Agri-Business Council and the United Dairy Industry of Michigan (UDIM), the cost of this program is free.
Registration
In order to help with logistics planning for the meeting and to avoid a lengthy check-in process that morning, attendees are strongly encouraged to preregister for the event.  Those without computer access can call the Branch County MSU Extension office at 517-279-4311 Ext 0 for assistance.  We can also accommodate walk-in registrations, but please arrive closer to 8:00 AM to allow sufficient time to get through the lines.
Register for the Branch County Farmers Day 2023
Pesticide applicator testing
Once again, the Michigan Department of Agriculture and Rural Development (MDARD) and Michigan State University will be hosting an in-person training and testing event for pesticide applicators.  Most private and commercial applicators are encouraged to either maintain certification through earning continuing education (RUP) credits or utilize computer-based testing to take exams.  Few opportunities exist to conduct in-person testing in southern Michigan, and these events—which offer testing for the core exam and standards only, not commercial categories—must now be coupled with a pre-test training program. 
We have coordinated with MDARD and MSU's IPM academic specialist to be able to offer one such in-person event concurrently with the Branch County Farmers Day at the Dearth Center.  These events are being held simultaneously but completely separately.  If you are interested in learning more about the pesticide training and testing session being offered on Feb., visit the MDARD In-Person Core Testing and Core Review registration website.  Separate fees and registration are required for that event. The next closest training/testing events will be in Benton Harbor (March 23), Adrian (April 14), and several offerings in East Lansing.
For more information, contact the Branch County MSU Extension office at msue.branch@county.msu.edu or 517-279-4311 Ext 0.