Branch County FRIENDS Day Camp teaches youth lifelong health habits
Weeklong health and nutrition teaches youth about healthy eating and physical activity.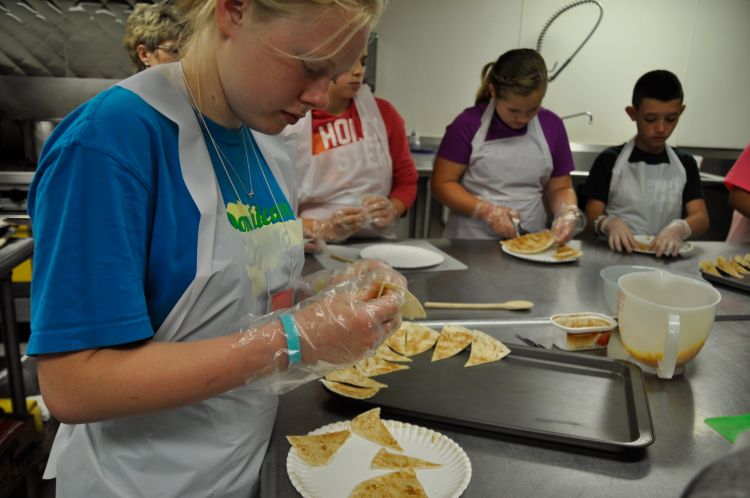 Branch County parents were taking home tired children and homemade, healthy snacks last week after Michigan State University Extension's Branch County FRIENDS Nutrition Camp, a weeklong health and nutrition camp that taught 70 local youth ages 7-11 about healthy eating and physical activity. The camp activities were led by 25 local teen counselors.
"Nutrition is a good habit to learn early because there are so many things in the store that aren't good for you. FRIENDS Camp teaches kids how to decipher between 'is this good for me, is this a good choice, do I actually need to eat this or is there a better choice I can make?'" said Katie Spalding, 17, fourth-year FRIENDS Camp counselor.
Campers learned how to make healthy snacks each day to understand how they can substitute nutritious foods for high-calorie foods with little or no nutritive value.
"I tried a fruit smoothie – with blueberries, strawberries, bananas and yogurt -- and it was pretty good," said first-year FRIENDS camper Sydney Gallop, age 10. "We made peach salsa using onions, cilantro, lime juice, peaches and peppers, and we made cinnamon chips."
"Obesity and diabetes rates in children are increasing, and MSU Extension hopes to help slow this growing problem," said Suzanne Pish, MSU Extension educator. "FRIENDS Day Camp is a way to educate youth about making healthy lifestyle choices."
Campers visited the Hudson Dairy Farm, where they learned about local dairy production and nutrition.
"We try and cook healthy and show her what's in the food. At FRIENDS Camp, the kids learn where their food comes from and about the animals," said Dena Knapp, of Montgomery, Michigan. This is Knapp's second year sending her daughter to FRIENDS Camp.
"The education they learn here can be used to help them as they get older," said Linda Kochendorfer, of Coldwater, Michigan, FRIENDS Camp parent.
"Nutrition is very important for your body. We learned that if you treat your body right, your body will live longer," said Sydney Gallop.
Teen counselors lead games and recreational activities to teach campers ways to enjoy physical activity as a part of a healthy lifestyle. Other activities throughout the week included a smoothie bike (a stationary bicycle that when peddled, powers a blender), BeSafe bullying prevention, 4-H science, swimming, a scavenger hunt and Jump Into Foods and Fitness (JIFF).
"Our hope is that these campers have an increase in healthier food and drink choices and an increase in physical activity levels after leaving camp," said Sarah Sleziak-Johnson, MSU Extension educator. "We want these kids to realize that physical activity can be fun, and you don't have to spend a lot of money to be active. Simply playing a game outside is a fun, free way to be healthy."
To learn more about Branch County MSU Extension's FRIENDS Nutrition Day Camp or to find other local programs, contact Sarah Sleziak-Johnson at 517-279-4311 or john3017@anr.msu.edu, or Suzanne Pish at 517-279-4311 or pishs@anr.msu.edu.