Breakfast: Build a healthy meal that fits your lifestyle
Making a healthy and quick breakfast is an easy way to give you and your family the energy and nutrients you need for the day.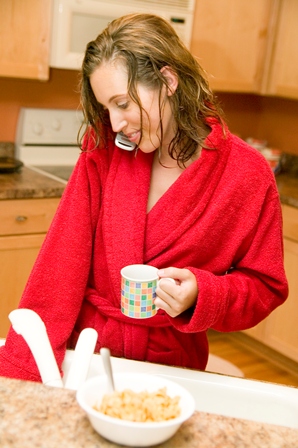 Your mother was right – breakfast is the most important meal of the day. When you break down the word "breakfast" you get "break" and "fast," meaning that it breaks the time spent fasting while you were sleeping. Eating breakfast is important for your body and mind. It jumpstarts your metabolism from the several hours since you've eaten last. This makes you less likely to overeat later on at lunchtime, which is helpful for weight maintenance. Also, studies have shown that children and adults alike are more able to focus on their work, school and other tasks when they eat breakfast as opposed to skipping breakfast.
So what should be on the breakfast menu? Really it depends on the person. Many people skip breakfast because they don't like to eat cereal, eggs or other breakfast-type foods; sometimes they don't like to eat first thing in the morning. However, you don't need to eat typical breakfast foods, and as long as you eat within an hour or two of getting out of bed, then you will still reap the benefits.
Ideally a good breakfast meal includes at least two food groups, is high in fiber and has some protein. The fiber and protein take longer to digest and help keep you fuller longer. Whole grains like 100 percent whole wheat bread and oatmeal are also helpful because they have more nutrients and digest more slowly than refined grains like white bread or donuts.
Here are some ideas for breakfast options, some more typical and some a little more creative:
Make a fruit smoothie with your favorite frozen berries and yogurt.
Microwave a 100-percent-whole-wheat tortilla with black beans, cheese and salsa.
Serve oatmeal with milk, dried fruit and a sprinkle of brown sugar.
Reheat leftovers from the night before, like pizza or a casserole, and have a glass of 100 percent fruit or vegetable juice.
Spread peanut butter on pancakes with a banana.
Having a hard time just getting out the door with your keys in the morning, let alone with a full stomach? Here are some ideas to keep breakfast a priority for a family on the go.
Start the night before
Think about what you will have for breakfast the night before as you're cleaning up the dinner dishes. Get out what you will need, such as bowls and spoons for cereal, a blender for smoothies or the skillet for pancakes. You can even go as far as making up pancake or waffle batter the night before so all you have to do that morning is cook.
Keep it simple
On the very hectic mornings or when you know you are stretched for time, make sure you have breakfast items that can be eaten on the go, such as a piece of leftover pizza, a banana, a baggie of cereal or trail mix and a carton of milk.
Make a routine
The more often you make breakfast a priority, the easier it will be to incorporate it into your schedule.
Use these ideas or come up with your own to get everyone fueled up and out the door for a healthy and productive day.