Breakfast on the Farm provides a fun and free learning opportunity for families
Want to enjoy a free family breakfast on a farm near you? Come to one of the scheduled Breakfast on the Farm events this summer to learn more about where your food comes from and how it is produced.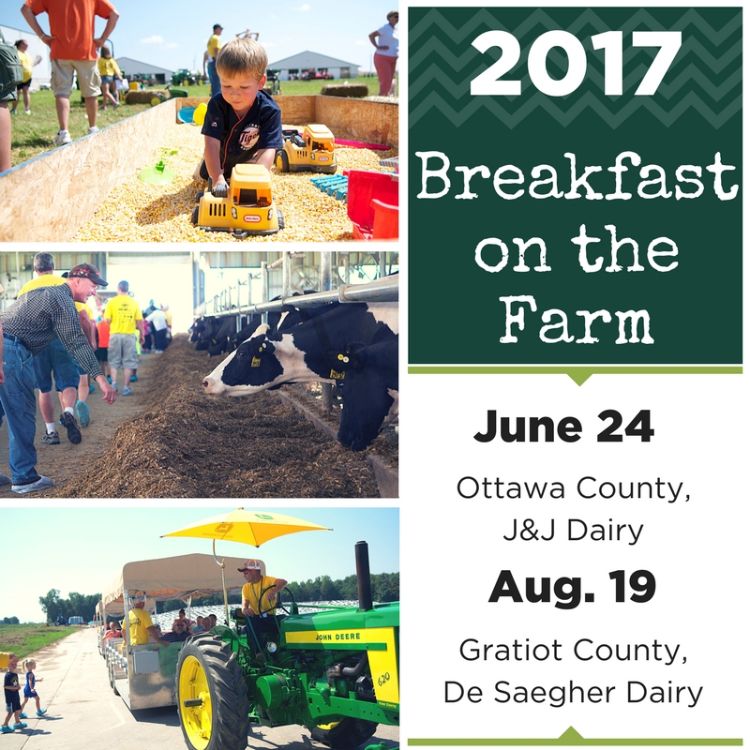 Learn how your food gets from the farm to your dinner table at a Breakfast on the Farm (BOTF) event this summer. Join us at one of our two events to meet the hardworking families who strive to produce safe, wholesome food for Michigan communities. BOTF is a free, fun and family-friendly event where people of all ages are welcome to visit a real farm and get a firsthand look at modern food production.
Michigan State University Extension created the Breakfast on the Farm program in 2009. The first event brought in 1,500 people from across the state. Over the years, the program has grown and, as of last year, more than 80,850 kids and adults had attended BOTF.
"The goal of Breakfast on the Farm is to connect local consumers to farmers, giving families an up close and personal look at how their food is grown and raised," said Ashley Kuschel, MSU Extension BOTF program coordinator.
At past BOTF events, attendees have been able to learn about topics such as proper animal care, crop production, milk production and operation of farm equipment. Visitors were able to participate in various hands-on activities, such as taking wagon rides, sitting on tractors, petting baby calves and eating ice cream. BOTF is a fun way to get kids interested in their food and establish the importance of farms in modern agriculture.
This year, the 2017 hosting farms would like to show visitors the high level of animal care provided in a modern dairy operation. BOTF is making it possible for families to get a behind-the-scenes look at how their milk and other dairy products are produced.
Upcoming Breakfast on the Farm dates and farm hosts are:
June 24: Ottawa County—J&J Dairy, Marne, Michigan.
Aug. 19: Gratiot County—De Saegher Dairy, Middleton, Michigan.
Both BOTF events will be held on a Saturday from 9 a.m. to 1 p.m., with the breakfast ending at noon. Although this is a free event, tickets are required for the breakfast. Ticket pick-up locations will be announced approximately one month before each event. For J&J Dairy, free tickets will be available at various locations around the community and online May 24. For De Saegher Dairy, tickets will be available July 19.
BOTF is supported by generous local and statewide sponsors. To find out more about a Breakfast on the Farm event in your area or to see pictures from past events, please visit the Breakfast on the Farm website at www.breakfastonthefarm.com.
Questions can be directed to Ashley Kuschel at 586-469-7616 or kuschela@anr.msu.edu, or Mary Dunckel at 989-354-9875 or dunckelm@anr.msu.edu.