Breakfast on the Farm visits lead to better understanding and confidence in modern crop production
Recent surveys show Breakfast on the Farm impacts the impression and knowledge participants have on modern crop production.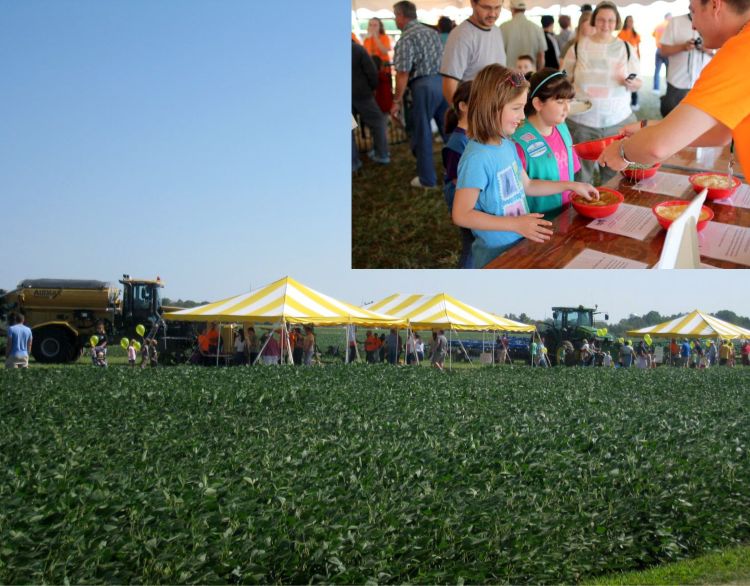 What do consumers think once they have been on a modern crop farm? A Breakfast on the Farm (BOTF) event held in 2013 on the Humm family crop farm in Michigan's Gratiot County hosted 2,400 participants. Over 400 farmers, family members, organization representatives and agribusiness professionals volunteered to staff the large event coordinated by Michigan State University Extension. Exit surveys and online follow up surveys show this educational tour impacted the impression and knowledge of those who attended.
For 76 percent of the participants surveyed, this was their first BOTF event, while 43 percent indicated this was their first time on a modern crop farm in 20 years and the second or third time for 15 percent. Individuals responding to our exit survey as they left the event (n=206) indicated they have a better understanding of crop production, are more knowledgeable about technology used to produce crops and are more confident in modern food production.
When it comes to knowledge about crop production, 57 percent strongly agreed and 21 percent agreed they are more knowledgeable about the use of technology in crop production. Also, 35 percent strongly agreed and 24 percent agreed they have a better understanding of genetically modified seeds while 4 percent disagreed and 6 percent strongly disagreed (Fig. 1). Seventeen percent indicated they already understood genetically modified seeds. These are individuals who work in agriculture or are more familiar with this technology.
Figure 1. Participants' level of agreement, on a five-point scale, that they have a better understanding of genetically modified seeds as a result of their educational tour.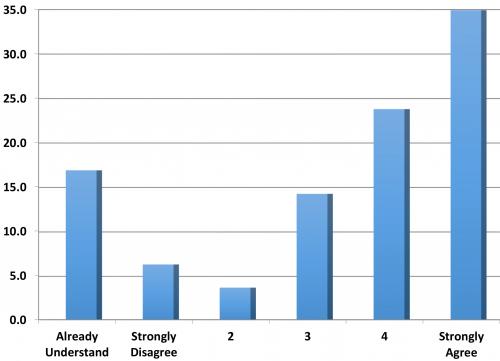 Better impressions
Although 33 percent strongly agreed or agreed they hear negative comments about how food is produced on modern farms, 52 percent strongly agreed and 26 percent agreed their visit increased their confidence in modern food production. While 12 percent indicated they were already confident, 6 percent either disagreed or strongly disagreed the tour increased their confidence. While a greater percentage (45 percent) of online survey respondents indicated they heard negative comments about modern food production, 31 percent strongly agreed and 48 percent agreed as a result of their farm tour, their general impression about modern crop farming has improved.
The online survey conducted a few months after the tour included a much smaller sample of respondents with 29 of 100 participants providing emails responding to the survey. Thirty-nine percent of the online survey respondents indicated their level of trust in food production on modern farms was high or very high before their tour, which shifted to 67 percent after their tour.
Tours continues to build trust
To the online survey question, "My level of trust that crop farmers will do the right thing with regard to safe guarding grains used in food production was," the mean response before was 3.2 and 3.7 after the tour. This significant difference translates into 32 percent with a high or very high level of trust before and 59 percent with a high or very high level of trust after. This online sample is small compared to online samples from dairy events and it reflects a slightly smaller change in trust when compared to dairy farm tours. Dairy event respondents shifted from the 55-62 percent before to 90-95 percent after with a high level of trust. This is likely because of the nature of the dairy tours where participants see more of the process including cows being milked, fed and housed.
When asked, "As a result of my farm tour, my trust in grains (corn, soybeans, wheat, oats) as a safe food has increased," 35 percent of respondents to the online surveys neither agreed or disagreed, meaning their trust did not change, while 45 percent agreed and 21 percent strongly agreed with this statement. For 56 percent, their trust in farmers as a source of information about food production also increased.
The level of trust participants had regarding crop farmers doing the right things to care for the environment shifted from 37 percent with high trust before to 58 percent after in the online survey. This translated to a mean response of 3.1 before and 3.7 after. Fifty percent strongly agreed and 25 percent agreed to a similar statement on the exit survey, "As a result of today's tour, my trust in farmers caring for the land and environment has increased." Only 5 percent did not agree to this statement.
A change in behavior
Since consumers hear mixed messages in the media and from other sources about modern food production, we asked respondents to the online survey if, as a result of their farm tour, they were more likely to disregard negative comments they hear regarding how food is produced on modern farms. Only 3 percent disagreed while 35 percent agreed and 31 percent strongly agreed. When asked, "Are you more or less likely to buy grain products such as those produced with corn, soybeans, oats or wheat?" 44 percent responded they were more likely and 12 percent much more likely to purchase grain products. In another question, 16 percent indicated they had increased their purchases of products with grains since their tour, 76 percent had no change, 8 percent did not know and none indicated they decreased purchases as a result of their tour.
Summary
Educational farm tours are providing the consumer an opportunity to see how modern farms work and to interact with producers and agribusiness professionals. Those visiting crop farms learn about technologies used, even gain a better understanding of controversial technology such as genetically modified seeds and come away with a great sense of trust in modern food production and the farmers who produce their food.