Breakfast on the Farm wraps up another successful season
Five Michigan farm families gave visitors an incredible first-hand look at modern agriculture. Now is the time for interested farm families to apply to host an event in 2016.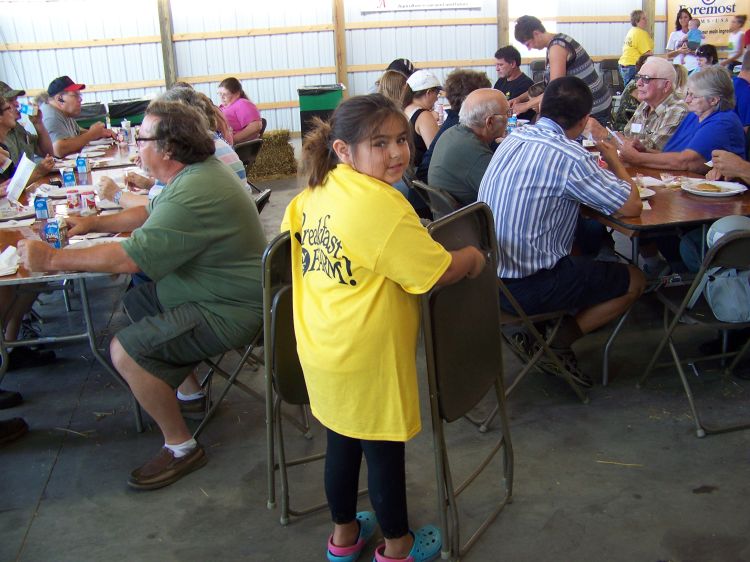 Michigan State University Extension would like to thank Stakenas Farms, Roto-Z Dairy Farm, Hood Farms Family Dairy, Wheeler Dairy Farm and Pleasant View Dairy for hosting a 2015 Breakfast on the Farm (BOTF) event. Their willingness to open up their farms made it possible for 13,481 people to experience the life and business of modern farming. Since the inaugural Michigan BOTF in 2009, nearly 75,000 visitors and volunteers have attended the events held throughout the state.
All five BOTF events this year featured dairy farms. Each started with a farm-cooked breakfast that included Michigan products. After enjoying breakfast, visitors embarked on a self-guided tour of the farm to see first-hand how farmers care for their animals, protect the environment and produce safe, wholesome food.
Along with host families, volunteers are also critical to the program's success. This year, 1,413 volunteers assisted with the events. They helped by serving on planning committees, preparing food, staffing educational stations, directing traffic, driving tractors, keeping the farm neat and the visitors safe.
BOTF is a program of MSU Extension that is made possible thanks to generous farm hosts, state and local sponsors and dedicated volunteers. The program is guided by a statewide advisory council that oversees farm selection, marketing and the educational components of the program. The council is currently looking for host farms for 2016 so now is the time for interested families to apply. The application and a checklist to guide interested host families can be found on the BOTF website. Once selected, MSU Extension staff will offer guidance from the early planning stages to the day of the event. For more information, please contact Mary Dunckel at (989) 354-9875 or dunckelm@anr.msu.edu or Ashley Kuschel at (586) 469-7616 or kuschela@anr.msu.edu.