Budget friendly, easy tortilla soup - you won't even know it's healthy!
Cinco de Mayo celebration reached many under served Hispanic/ Latino audiences in Oakland County.
In an effort to reach Hispanic and Latino underserved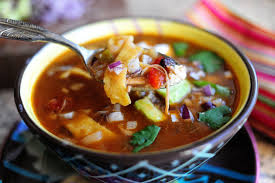 audiences within the city of Pontiac, Michigan State University Extension was invited by Dr. Sonia Acosta, CEO of Multicultural Family Center, along with other key community leaders within the Latino communities of Oakland County to participate in a Cinco De Mayo celebration aimed at raising awareness to barriers that this particular audience faces on a daily basis, and what services are available to help them overcome these barriers.
Thanks to Daniel Perez, MSU Extension program associate a positive alliance has been formed between MSU Extension and the Multicultural Family Center in Pontiac. The Multicultural Family Center is a non-profit organization that grants numerous services (medical referrals, legal help, immigration assistance, English (courses) as a second language, emergency food assistance, etc.) to a multitude of low-income families in Oakland County, regardless of ethnicity or race; while still serving a very large Latino clientele.
MSU Extension staff provided verbal and written information about nutrition and physical education to approximately 300 attendees at the Cinco De Mayo event and conducted three separate cooking demonstrations of cultural specific dishes for the target population. Staff created simple and inexpensive samples of mango salsa, avocado and bean salad, and the crowd's favorite – a simple six item tortilla soup that was delicious. Almost every participant that stopped at the food demonstration commented "how simple but yet delicious" the tortilla soup tasted.
Listed below is the budget friendly, simple and nutritious recipe for the popular tortilla soup!
Nancy's tortilla soup
Ingredients
1/2 of a rotisserie chicken, shredded with skin removed
1 – 15 ounce can of whole kernel corn
1 – 16 ounce bag of frozen gumbo vegetables
2 tablespoons of low-sodium taco seasoning
1 – 15 ounce can of black beans
1 – 15 ounce can of diced tomatoes
Directions
Place all ingredients in a large stock pot and simmer for 15 minutes or until hot. Garnish with reduced fat shredded cheddar cheese and crispy tortilla strips.
Did you find this article useful?
---