Butterflies in the Garden presented by Indoor 4-H Children's Garden
There is lots to see and do at Butterflies in the Garden on the Michigan State University campus.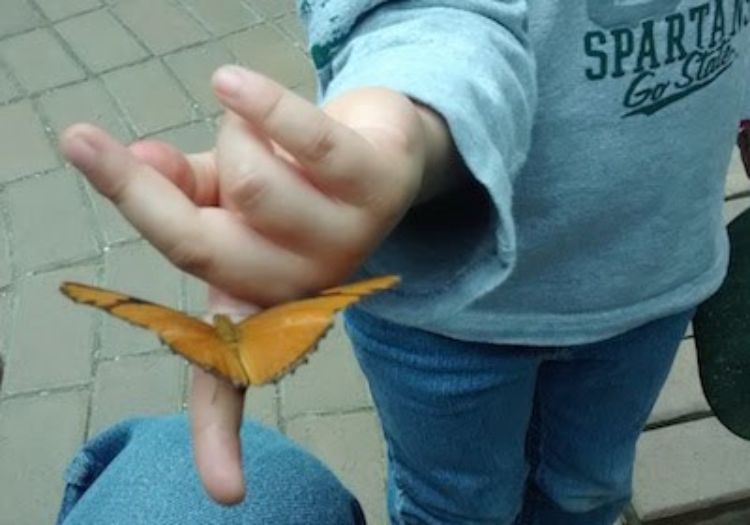 Did you know that every spring, the Indoor 4-H Children's Garden at Michigan State University becomes a butterfly flight house? Well, now you know, and that means you need to make plans to join the thousands of kids (and adults) that visit and enjoy this spectacle.
Visit the Butterflies in the Garden website for all the details and information. Public visiting hours are limited to 2-4 p.m. Monday-Friday and 10 a.m.-4 p.m. Saturday and Sunday. All other times are booked with school groups. In addition, there will be special hours the week of spring break, April 3-7, 2017, when Butterflies in the Garden will be open to the public from 1-4 p.m. Monday-Friday. There will also be special activities for visitors that week.
What is there to see at Butterflies in the Garden?
Witness the flight of a Zebra Longwing.
Find eggs hidden on host plants in the garden.
Look at larvae munching on leaves.
Watch as an adult emerges from its' chrysalis.
Use these Butterfly Scavenger Hunt ideas to explore and discover:
Find butterflies sipping nectar.
Find a red flower (butterflies favorite color).
Find a caterpillar munching on a leaf.
Find butterfly eggs. (Hint: They are usually yellow.)
Find each stage of the butterfly life cycle: the egg, larva, pupa and adult. Where do you find them in the garden?
How many different things do adult butterflies do?
How many different kinds of butterflies can you find? What are their names?
Which butterflies live in Michigan? Where are the other butterflies from?
Leave a drawing of your favorite butterfly, we will hang it up.
How do adult butterflies eat? What are they eating? Do you see a pattern?
How fast can caterpillars munch on a leaf? Find one and observe for 3 minutes and see how much they eat.
What other fun things can you find to do in the garden? Feel free to sniff, touch and watch the wonders!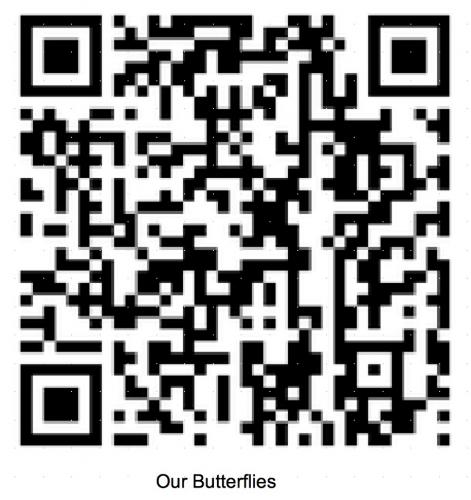 To discover even more butterfly secrets, look for the Butterfly Smart Signs (QR codes). These special signs are for smart phones or iPads. To use them, you have to have a QR Code reader on your phone or iPad. When you point the camera on your phone or iPad at the QR Code, it will automatically go to the website we have created and lots more information about butterflies, butterfly plants, chrysalis, roosting and more. You can preview the Butterflies Smart Sign information.
Finally, make plans to attend Butterfly Day on April 15, 2017. Join us for a fun, family program that celebrates butterflies! We will have numerous activities to engage kids of all ages in learning about our flying friends. Explore the Indoor Garden on a butterfly hunt and conduct a scientific investigation, make wings of your favorite butterfly, play a few fluttering games and have an afternoon of fun. The cost is $5 per child, parking is free. You can register online or by phone at 517-353-0452.
Butterflies in the Garden is in the Indoor 4-H Children's Garden, located in the Plant and Soil Sciences Building, 1066 Bogue Street, East Lansing, MI 48824. Parking is in the Horticulture Gardens parking lot just south of the building. The Horticulture Garden parking meters are a cash/credit system Monday-Friday, 7:30 a.m.-6 p.m. Parking can be paid at the meter and the machines accept credit and U.S. coins. The charge for parking is $0.25 for 8 minutes. There is a $1.80 minimum for credit card charges. All major credit cards accepted.