Cabin Fever Conversations returns for another season
This FREE series connects you to your garden and fellow gardeners, even when stuck inside. Live interpretation is available!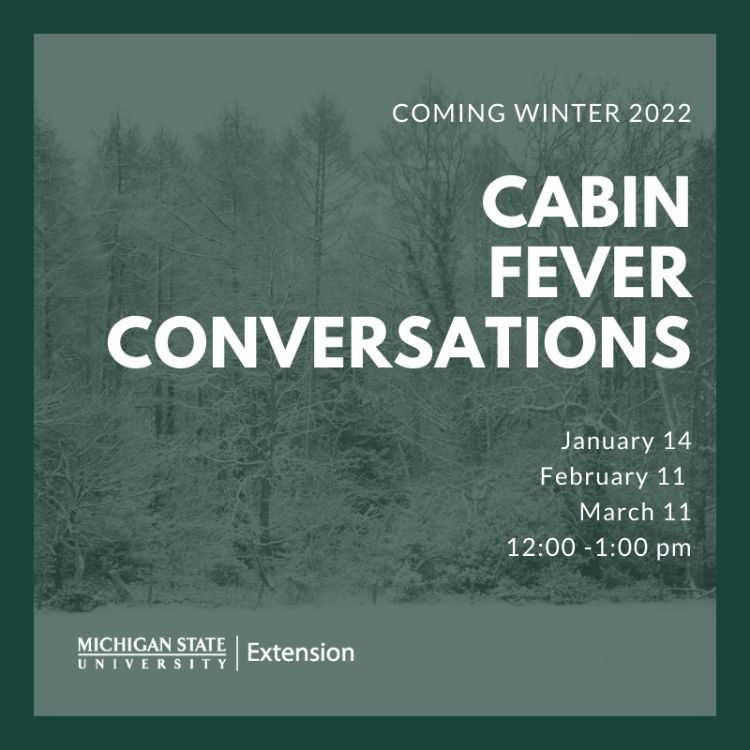 Join Michigan State University (MSU) Extension and friends for Cabin Fever Conversations – Season 3!
Cabin Fever Conversations is returning for a third season! In 2022, the series will feature three monthly episodes with three new guest speakers. This FREE series aims to help connect you to your garden and fellow gardeners, even when we are stuck inside. Each episode will feature a conversation to help get your mind outside and into the garden, highlighting the passion and wisdom of featured speakers. It may be snowing outside, but these conversations will get you dreaming and scheming for time spent with our plant friends.
The series will have live captioning and ASL interpretation for all three episodes.
The 2022 Cabin Fever Conversation series will take place on three Fridays, January – March, from 12:00 p.m. – 1:00 p.m.
January 14, 2022 – An indoor plant-focused conversation featuring Hillary Coleman of 1991 Greenery based in Lansing, Michigan. Learn about care and propagation of a variety of indoor plants to make gardening a 365 days a year hobby!
February 11, 2022 – A cultivar centered conversation featuring MSU Extension Educator Barslund Judd. Time to familiarize yourself with the Latin lingo to understand complex plant relationships, improve your plant care, and impress your friends!
March 11, 2022 – Edible Flint's Kelly McClelland helps us bring back Conversations in the Community, exploring how this great organization is creating connections through gardening and implications for your own community.
Whether you are just dipping your toe into the world of gardening or are an experienced gardener – "Cabin Fever Conversations" is a space for you. Plant lovers of all kinds are encouraged to join the conversation to learn something new or get inspired to try out a new skill. Register at events.anr.msu.edu/CFC/.
Looking for Master Gardener Continuing Education Credit? Each episode counts for one hour for continuing education for Master Gardeners.