Camp, crayfish, and a cool science and career experience
Kids explore science, careers, and environmental stewardship while surveying Michigan crayfish populations at 4-H Great Lakes and Natural Resources Camp.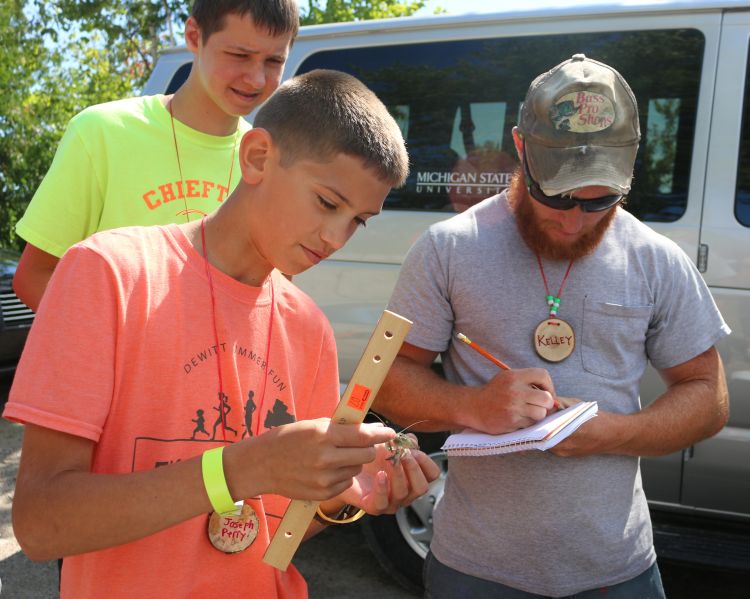 Net in hand while wading in search of crayfish seems like a normal summer day exploring any of rivers, streams, lakes and Great Lakes waterways across Michigan. While it was fun, these crayfish collecting youth participating in the 2015 4-H Great Lakes and Natural Resources (GLNR) Camp were contributing as citizen scientists to a statewide crayfish survey. Getting their feet wet exploring Michigan crayfish populations, these youth were also experiencing science and careers first-hand while working alongside Michigan State University Department of Fisheries and Wildlife researchers.
The week-long 4-H GLNR Camp, held annually in Presque Isle County at Camp Chickagami, provides hands-on learning experiences engaging 65 youth, ages 13-15, in exploring science, leadership, careers, and of course, recreation related to Michigan's Great Lakes and natural resources. The 4-H GLNR Camp, an MSU pre-college program, is sponsored by Michigan State University Extension, 4-H Youth Development, Michigan 4-H Foundation, Michigan Sea Grant, and MSU Department of Fisheries and Wildlife, among several others.
During the camp, teens participate in science sessions relating to local woodlands and wildlife, Great Lakes invasive species, wetlands, watersheds, fisheries, and more. Campers learn about Michigan's outdoors in numerous hands-on activities, while exploring potential careers by working with professional experts. One such example offered a chance to explore and collect data on local crayfish populations.
Kelley Smith, a researcher from the MSU Department of Fisheries and Wildlife, has been coordinating with the state Department of Natural Resources in conducting a statewide crayfish survey. His goal is to document presence of some nine known crayfish species in Michigan, including those in lakes and rivers, streams and ditches, and even some burrowing species. The underlying purpose of his study has been to document the spread of invasive rusty crayfish (Orconectes rusticus) as well as any potentially new and unwanted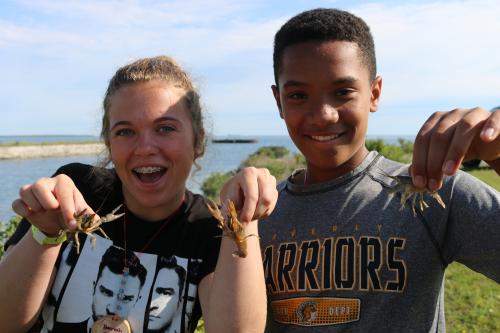 introductions of the red swamp crayfish (Procambarus clarkii). Students exploring aside Smith gained an appreciation for the importance of biodiversity conservation, recognizing diversity of crayfish species, the many different types of water they inhabit, and the important ecological roles that they play.
In the water, it was all about finding – and identifying – crayfish! Students collected crayfish from waters of Presque Isle and Alpena counties, finding some waterways rich in native northern clearwater crayfish (Orconectes propinquus) and northern crayfish (Orconectes virilis). They also documented findings of the invasive rusty crayfish in other places. Sharing his passion for science and crayfish, Kelley's campers quickly became expert in crayfish identification and data collection and had an opportunity to learn about the importance of the research project to which they were contributing.
Smith keyed students in on the many adaptations or features of rusty crayfish – harder shell, larger claws, and more aggressive behaviors – that allow them to outcompete native species for resources – food, shelter, and water habitat. Where rusty crayfish were found students largely noted the absence of the two native species they were commonly finding elsewhere. It was a real-world example and opportunity to explore the issues of aquatic invasive species and ecosystem problems these invaders can present.
Hands-on science and career explorations, environmental stewardship and community leadership – all are a part of this 4-H Camp experience. It's a great time when wading for crayfish can offer such important lessons. Students gain a new perspective toward their own roles as environmental stewards and future community leaders as part of these camp experiences.
Michigan Sea Grant helps to foster economic growth and protect Michigan's coastal, Great Lakes resources through education, research and outreach. A collaborative effort of the University of Michigan and Michigan State University, Michigan Sea Grant is part of the NOAA-National Sea Grant network of 33 university-based programs.