CAT Alerts are moving to join news.msue.msu.edu
CAT Alerts are joining a new effort to bring you more timely information from MSU Extension.
Dear Crop Advisory Team (CAT) Alert readers:
Michigan State University Extension is launching a new website to bring all of its ag-based information into one location. This includes the articles written by the CAT Alert teams. The new site is: news.msue.msu.edu
The concept behind the new web is to make it easier for readers to access a range of relevant information from MSUE. For example, a grower with a farm market can easily read the fruit, vegetable and business topics. A dairy farmer can read about milking equipment as well as field crop articles about pest management in forages. A landscaper can get additional ideas from our garden team. Crop farmers can find out what MSU research is reporting about the bioeconomy.
The CAT Alert websites will no longer post new articles as all new information will be at the new site (news.msue.msu.edu). In the near future, past articles from the CAT Alerts will be searchable at the new site. In the meantime, you can continue to search past articles here at the CAT Alert website. If you currently receive email notification from us when new articles are posted, we will continue to provide that service for the new site.
Below is an image of the new site. You'll note that the tan navigational bar on the left contains links to categories that match the names of the CAT Alerts (field crops, vegetables, etc.). I hope you will click around and explore several categories to learn the breadth of information that is at your fingertips. Note that the search function will improve as Google returns to index the site a few more times.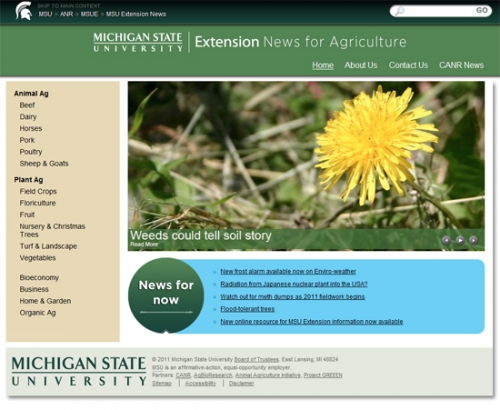 I value your input about the new site – your suggestions and feedback will help us improve and can be sent to this address: catalert@msu.edu
Thank you for your support through your readership.