Cauliflower…a new kind of popcorn!
Some vegetables contain certain nutrients you cannot get from other foods.
White vegetables contain certain vitamins and nutrients that are unique to them. Cauliflower, for instance, contains large amounts of vitamins C, K and folate. Vitamin C helps to strengthen the immune system, makes collagen, heals wounds, helps treat autoimmune disorders and helps prevent cataracts. Vitamin K contains anti-inflammatory nutrients in it. Folate helps prevent birth defects in developing fetuses.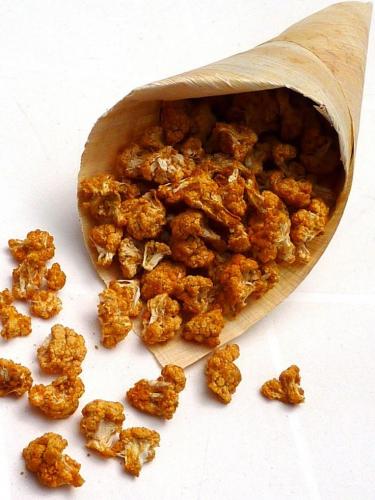 Eating cauliflower can also help reduce certain types of cancers especially those that occur in the digestive and reproductive organs. Like most vegetables, cauliflower helps a person maintain healthy cholesterol levels and improves heart health. Additionally, cauliflower helps to keep hormones balanced and it aids in the production of clot formation.
Michigan State University Extension recommends adding a twist to your typical cauliflower recipe.
Cauliflower Popcorn
Ingredients
Head of Cauliflower
Butter flavor cooking spray
Tumeric
Mrs. Dash Seasoning (original)
Directions
Rinse cauliflower in cold water
Blot dry with a paper towel
Break the head of the cauliflower into bite-size florets
Spread them on a parchment lined baking sheet
Spray cauliflower lightly with butter flavor cooking spray
Sprinkle with turmeric and Mrs. Dash Seasoning
Bake for 20 to 30 minutes at 425 F, or until cauliflower is slightly browned