Cedar-apple rust disease on junipers
Strange orange growths on junipers will soon spread rust disease to susceptible crabapples.
Each spring, I receive calls asking what the bizarre orange growth is on Junipers. These strange growths are caused by cedar rust diseases. For most of the year, the only symptom of the disease on the juniper is hard, brown galls that are a half-inch to an inch wide. The pathogen that causes this strange growth form is actually a fungus called Gymnosporangium spp. The fungus first becomes active on the eastern red cedar (juniper) during warm, wet spring weather producing what is called telial horns, or orange gelatinous growths. Spores are released from the telial horns, spreading the disease through the air from the juniper to alternate hosts.
Susceptible alternative hosts like crabapples, apples and hawthorns are infected as spores drift from junipers. On the crabapples, apples and hawthorns, the fungus causes yellow to orange spots on the leaves, while also infecting the fruit where orange to rust threadlike projections develop. Susceptibility to cedar-apple rust varies with some cultivars of crabapples being resistant to the disease. Crabapples and hawthorns that are very susceptible to the rust disease and are in close proximity to infested junipers can experience heavy leaf drop due to the disease.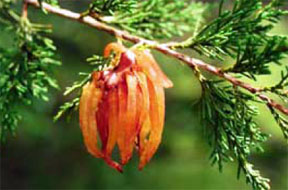 The damage from the fungus is minimal on the juniper, but can be harder on the alternate hosts like the crabapples, often causing serious leaf drop. One method of reducing the problem is to remove infested nearby junipers. Since the disease must start on the juniper before spreading to an alternative host, removal of the juniper stops the primary development of the disease. The disease can be carried on the wind from junipers a distance off, but the farther away it is, the lower the disease pressure.
Fungicide treatments can be useful for reducing the damage if done on a preventative basis. Recommended fungicides can be found on the Ohio State University ExtensionCedar Rust Diseases of Ornamental Plants fact sheet. Once it has been diagnosed on the crabapple, hawthorn or any of the other alternate hosts, it is too late for any treatments in that season.
Resistant varieties of both crabapple and hawthorn are available through local nurseries if you chose to replace plants with chronic problems due to rust disease. Further information can also be found on the Cedar Rust Diseases of Ornamental Plants fact sheet.