Celebrate Geography Awareness Week
Young and old can navigate new territory as they explore the wonders of geography and learn how it relates to everyday life.
It's not too late to join the National Geographic Society in celebrating Geography Awareness Week, November 18-22, 2013. National Geographic created Geography Awareness Week to raise awareness, educate and excite people about geography as both a discipline and as a part of everyday life. Geography Awareness Week is a perfect time to explo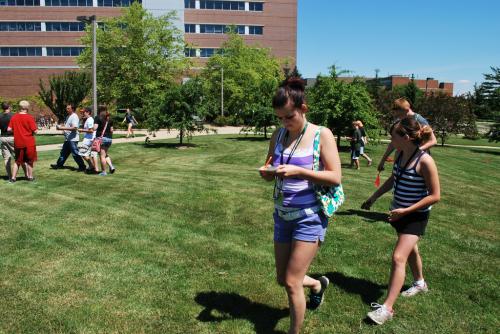 re geography with resources and games. A wealth of activity ideas are available for free from the Geography Awareness Week Archive Collection along with resources about geography as a field and discipline.
Michigan State University Extension also has lesson plans for geography activities for youth in third through eighth grade. There are seven geography activities within the Junior Citizen Planner (JCP) developed through a joint effort between the Citizen Planner Program and 4-H Youth Development. For the Michigan Map Road Trip activity students work in pairs and use a Michigan map to fill in blanks while taking an imaginary road trip. They locate and identify characteristics of places, cultures and settlements. In Farmland Development students graph and interpret trends in farmland and population data. They also plot land use scenarios and evaluate the pros and cons of developing farmland. The JCP curricula also includes a geocaching activity using Global Positioning Systems (GPS) technology for groups of beginners and for groups with experience using GPS.
Why should anyone care? The U.S. lags behind the rest of the world in every aspect of geography education. There is often a disproportionate focus on dates, events and individuals, with little attention paid to the functioning of human-environment systems or geographic reasoning. Although this is the week designated as Geography Awareness Week, geography educational resources can be used at any time of the year.