Celebrate National Farmers Market Week in your own community
This national celebration highlights what is best about local food and farms.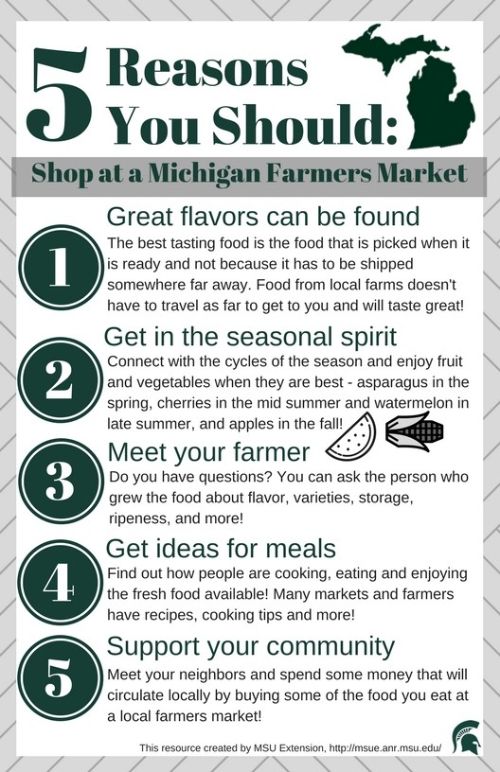 You can join your friends and neighbors at your local farmers market and celebrate National Farmers Market Week from August 4-10, 2019. The National Farmers Market Coalition highlights many ways in which farmers market are serving communities: preserving farmland, stimulating local economies, increasing access to nutritious food, supporting healthy communities and promoting sustainability. The Michigan Farmers Market Association (MIFMA) reports that there are approximately 300 farmers markets in Michigan and each one works to create a marketplace for farmers, entrepreneurs and artisans bringing their work to sell directly to the public.
Here are five reasons you should consider shopping at your local farmers market:
Great flavors can be found – The best tasting food is food that is picked when it is ready and not because it has to be shipped somewhere far away. Food from local farms doesn't have to travel as far to get to you and will taste great!
Get in the seasonal spirit – Connect with the cycles of the season and enjoy fruit and vegetables when they are best. For example, asparagus are best in the spring, cherries in July, watermelons in August and apples in the fall.
Meet your farmer – Do you have questions about your food? You can ask the person who grew your food about flavor, varieties, storage, ripeness and more!
Get ideas for meals – Find out how people are cooking, eating and enjoying the fresh food that is for sale. Many markets and farmers have recipes, cooking tips and more!
Support your community – Meet your neighbors and spend some money that will circulate locally by buying some of the food you eat at a local farmers market.
Michigan State University Extension supports farmers markets and the Michigan Farmers Market Association to improve these local marketplaces. Find a farmers market in your community by visiting MIFMA's Find a Farmers Market website.