Celebrate National Farmers Market Week with MSU Extension
MSU Extension is supporting local food, local farmers and nutrition education.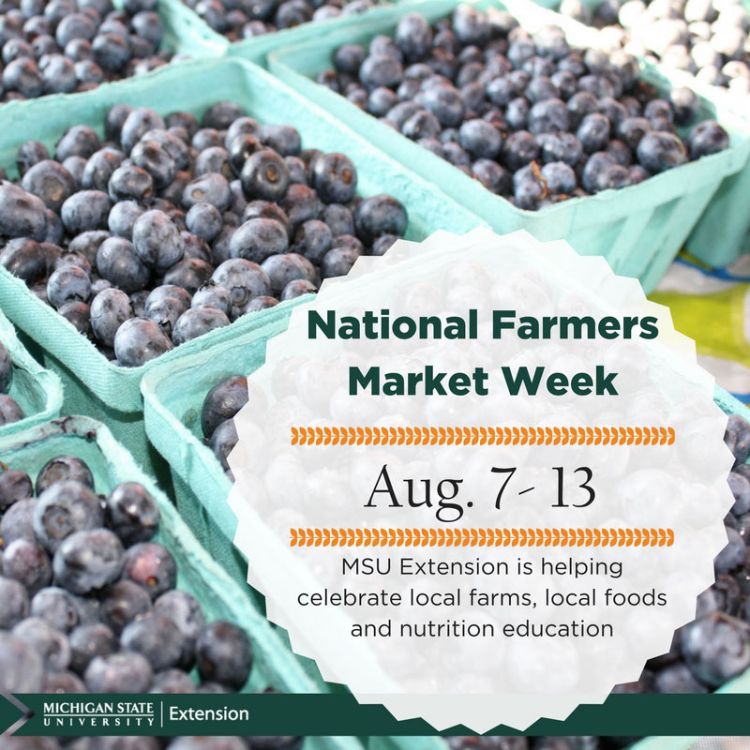 MSU Extension is celebrating National Farmers Market Week with events in farmers markets throughout Michigan that will help you better understand growing and buying food and how to make it a nutritious part of your diet. From the U.P. to Southeast Michigan, and always online, MSU Extension celebrates local, healthful food that makes communities stronger.
This is the 17th annual National Farmers Market Week. Secretary of Agriculture Tom Vilsack recently signed a proclamation that set aside this week as a time to celebrate the contributions farmers markets have on the economic, social, and environmental health of local communities.
To help you get involved in the celebration, the Michigan Farmers Market Association has an interactive map which shows the locations, dates, and times of more than 300 farmers markets from around the state.
Farmers markets are often seen as places where communities gather and can bring added economic and social benefits to communities. A 2011 Economic Research Service Report showed that fruit and vegetable farms selling into local and regional markets employ 13 full-time workers per $1 million in revenue earned. Comparatively, farms that are not selling locally employed only 3 people per million in revenue.
By helping support local small and medium sized farms, markets help ensure important local farmland stays in production. Many markets also drive key social change by providing low-income communities access to fresh local food through nutrition incentive programs like SNAP and Double-up Food Bucks.
MSU Extension events
In fact, MSU Extension staff will be at farmers markets around the state to help celebrate:
Aug 9: nutrition education booth and free gauge testing for canners will be held at the Wexford County Cadillac Farmers Market. A food demo will be held at 12:30 p.m. at the Genesee County Flint Farmers Market.
Aug 10: a farmers market tour for SNAP participants and for childcare providers at 10 a.m. at the Downtown Saginaw Farmers Market.
Aug 11: Discover Michigan Fresh tours are from 3 p.m. – 7 p.m. at the Gratiot County St. Louis Farmers Market. "Kids Day at the Market" at the Hannahville Farmers Market will include a p relay for kids, a coloring contest, taste testing and door prizes. The Hannahville Farmers Market will also have Michigan Fresh and Discover Michigan Fresh resources available as well as Senior Project Fresh coupons for seniors in the community.
Aug 12: Project Fresh market at the Royal Oak Farmers Market
Aug 13: Project Fresh market at the Pontiac Farmers Market.
MSU Extension and Michigan Fresh helps people explore the state's bounty of fresh, locally grown fruits, vegetables, flowers and ornamentals. Every week throughout the summer, Michigan Fresh will have a bounty of information for Michiganders and National Farmers Market Week is no exception. Visit the Michigan Fresh website to learn about more than 90 plants and food grown and raised right in Michigan and farmers markets throughout the state with Michigan Fresh resources and knowledable staff.