Celebrate the annual Central Michigan Seed Swap
Join seed savers for the 4th annual Central Michigan Seed Swap in Midland on Feb. 25.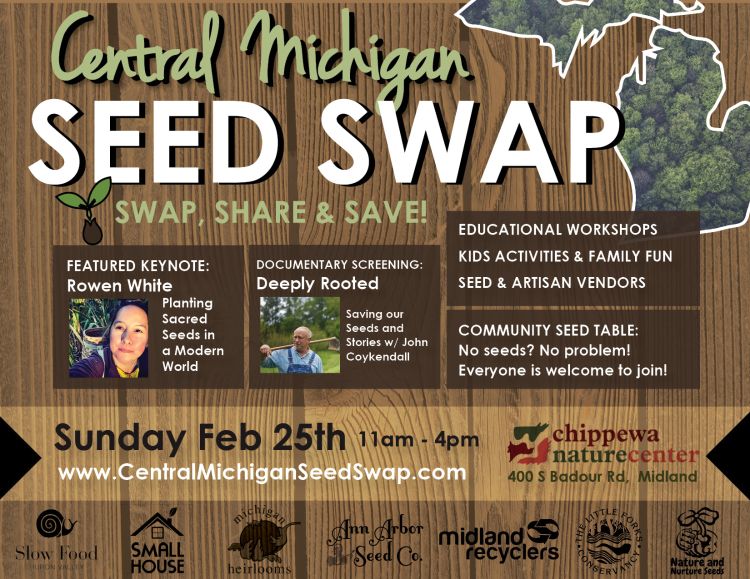 Seed saving is the process of using seeds generated in one season to produce crops in the next. It is a tradition that goes back 12,000 years, and thanks to efforts of local advocates and a strong community gardening network, it is a practice that is gaining in popularity. Michigan now boasts upwards of 40 seed libraries throughout the state that help connect gardeners to the source of their food and provide a necessary input for community food systems.
The Central Michigan Seed Swap, now in its fourth year, aims to reconnect local growers to this tradition to build a sustainable seed community that preserves genetic diversity, builds community, and maintains local control of one of the most important inputs to farming. "In today's world it is more important than ever for every community to have an independent and reliable source of fresh food. A localized seed bank is essential to making this possible. Every neighborhood needs to stand up and reclaim these traditional skills that were once vital to our existence," says Ben Cohen, farmer at Small Hands Farms in Midland, Michigan, and the original organizer of the Central Michigan Seed Swap. The Swap helps equip participants with the skill necessary to maintain this tradition.
The Seed Swap will be hosted on Sunday, Feb. 25 from 11 a.m. - 4 p.m. at the Chippewa Nature Center in Midland and is free to attend. What started as a small gathering of local farmers and gardeners, eager to preserve favorite seed varieties and be introduced to new ones, has now grown into an event attracting over 300 participants from five different states.
The day-long event gives participants the opportunity to learn how to save their own seeds, start a seed program in their neighborhood, and learn from experts about the importance of understanding this history of seeds in our cultures. Keynote speaker Rowen White is a renowned Seed Keeper and farmer from the Mohawk community of Akwesasne, and will share about the seed legacy of indigenous people and the historical connection that seeds provide to ancestral roots. Throughout the day, participants will also be able to exchange seeds with other savers, explore new varieties, and create natural dyes from native Michigan plants. The event is also family friendly, giving children the opportunity to create mini worm farms, craft heirloom bean bracelets, and explore the Chippewa Nature Center's hands on learning experiences.
Michigan State University Extension can also answer many questions about seed saving, seed starting, and general gardening information. For more information about the Central Michigan Seed Swap, visit http://www.centralmichiganseedswap.com or their Facebook page.