Celebrating our partners: Working together makes all of us more effective
Great Lakes Fishery Trust's Great Lakes Stewardship Initiative wins Key Partner Award.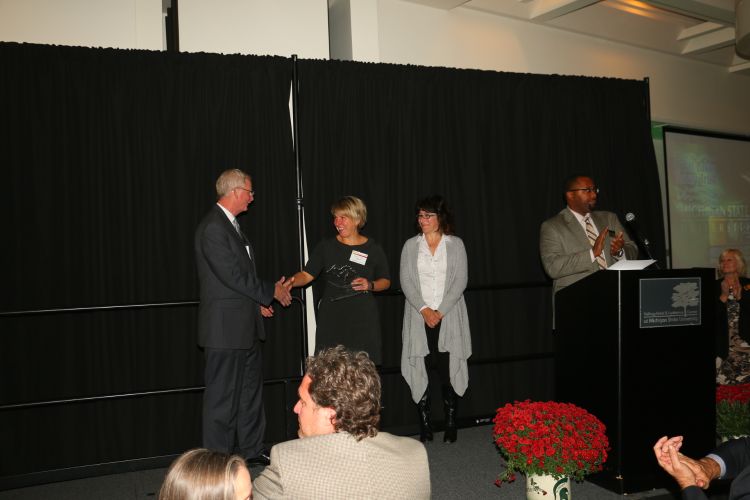 Partnerships are key to expanding the reach, impact and ownership of many of Michigan State University's Extension programs. At Michigan Sea Grant, we're proud of our many successful partnerships from local township, city, and county government to state departments like the Department of Natural Resources to federal organizations like the NOAA National Marine Sanctuaries or U.S. Fish and Wildlife Service, from school groups to local marina managers to commercial fishing companies, from volunteer organizations to individual volunteers. All of these help further our mission of enhancing healthy and sustainable use of our Great Lakes resources, benefiting the environment, the quality of life, and the Michigan, Great Lakes and national economy. Together we are able to accomplish more, reflect on and consider diverse opinions and hopefully find collaborative answers to difficult questions.
One of Michigan Sea Grant's important partners, the Great Lakes Fishery Trust's Great Lakes Stewardship Initiative, recently was recognized by Michigan State University Extension with a Key Partner Award, presented during the 2016 Fall Extension Conference.
The Great Lakes Fishery Trust, led by GLSI team members Mary Whitmore, Lisa Marckini-­Polk, and Julie Metty Bennett, has invested financially while working alongside Michigan Sea Grant and many other partners to foster high quality place-­based stewardship education programming opportunities for schools, educators, and youth across Michigan. The school-­community partnerships supported through these investments engage youth in hands-­on and applied learning, promote understanding of critical Great Lakes and natural resources issues and stewardship, and connect youth as valued partners and leaders in accomplishing conservation priorities and community development goals. Learn more about the Great Lakes Stewardship Initiative at www.glstewardship.org/
Part of our mission includes looking for new ways to partner with other organizations in order to solve difficult environmental problems, enhance learning opportunities and inspire stewardship of our Great Lakes resources. There is always room for more! Do you belong to an organization or group that might want to partner with us then we encourage you to contact Michigan Sea Grant. Together we can always accomplish more.
We appreciate the dedication, enthusiasm and assistance of the Great Lakes Fishery Trust's Great Lakes Stewardship Initiative team and thank them for being an excellent Key Partner with Michigan Sea Grant and Michigan State University Extension and we look forward to many more years of collaboration.
Michigan Sea Grant helps to foster economic growth and protect Michigan's coastal, Great Lakes resources through education, research and outreach. A collaborative effort of the University of Michigan and Michigan State University and its MSU Extension, Michigan Sea Grant is part of the NOAA-National Sea Grant network of 33 university-based programs.