Central Michigan field crop update – June 11, 2020
Disaster relief resources are available.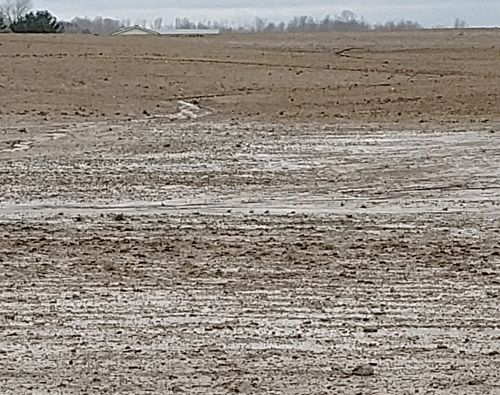 With most standing water leaving the fields, looking at how to "clean up the mess" is next. A flooding resource document has been created by Michigan State University Extension to address the needs of our farming community. Pay special attention to nutrient considerations and repairing fields. This week's Field Crops Virtual Breakfast covered nitrogen loss after rain events. While we consider the best way forward in repairing fields for the now, let's consider management strategies to prevent erosion caused by these excessive rain events.
Erosion is still the primary form of soil degradation, moving our valuable topsoil to low laying areas or off your farm. This erosion can reduce the soil fertility in the eroded areas as well as loss of soil structure and water holding capacity. Building resilience in our fields to hold our soils and absorb more moisture can be achieved through soil health practices. Erosion prevention by not disturbing our soil and having residue would have helped fields this spring.
Make sure to be in contact with your county Farm Service Agency office for financial support for both natural disaster and the Coronavirus Food Assistance Program (CFAP). CFAP provides direct relief to producers who faced price declines and additional marketing costs due to COVID-19 pandemic.
Weather report
The central part of Michigan continues to receive more than its fair share of rainfall this spring. According the MSU Enviroweather stations in Ithaca and Freeland, rainfall totals are above the five-year averages while growing degree day totals are below the five-year averages. Fields are drying out as farmers were able to wrap up planting over the past week. The weather patterns early this week were favorable to bring potato leafhoppers and stripe rust into Michigan. View Jeff Andresen's weekly weather report below.
Pest report
Armyworm moth catches in central Michigan have stabilized and are trending downward. Scout now for feeding since egglaying and hatching may have occurred. Farmers are advised to scout wheat fields and other vulnerable crops for this pest infestations. Pay special attention to fields near grass areas or fields with weed problems. No reports of any serious disease at this point.
Commodity report
It is estimated that almost all corn and soybean crops are planted. There have been a considerable number of acres that have been replanted in areas impacted by flooding or standing water. Early planted corn is V-2 while early soybeans have the first trifoliate leaves emerging. Herbicide applications are being made as weeds are growing rapidly.
The wheat crop has flag leaves fully emerged and with the warm weather has been moving the crop along rapidly. There are reports of severe weed problems in some fields. The primary problem weeds are downy brome and annual bluegrass. Strip rust has been identified at the MSU Wheat Breeding farm. Armyworm moth flights are occurring so scout fields for these insects and disease pressure. Continue monitoring the Head Scab Prediction Model. Fungicide applications are nearly completed.
Alfalfa harvest is wrapping up for those on aggressive cutting schedules. Most farmers are reporting average to below average yields. Alfalfa weevil have been feeding in most areas. There were reports heavy feeding is some areas. Scout regrowth for weevil feeding and potato leafhoppers. New alfalfa seeding have emerged and progressing nicely.
The oat and barley crops are planted and emerging nicely.
The nice weather last week gave dry bean growers a chance to wrap up planting. No reported problems at this time.
How to connect
Please join Paul Gross and Monica Jean weekly on Wednesdays for your lunch break at 12:30 p.m. Farmer and agribusiness join to discuss what is happening in our central Michigan farming communities. No registration, just follow this link: https://bit.ly/lubrk4u
If you would like to be added to our regional newsletter, please send an email to Monica Jean at atkinmon@msu.edu or Paul Gross at grossp@msu.edu.