Central Michigan field crop update – May 28, 2020
Time to walk some fields.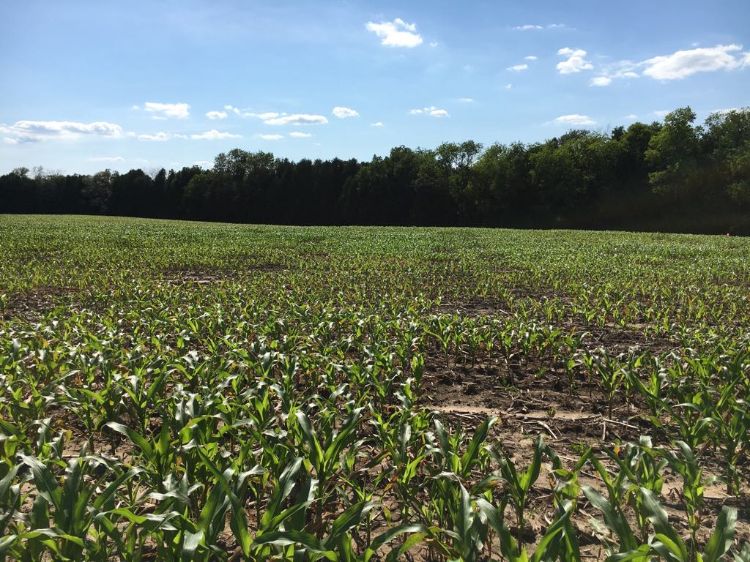 With planting winding down and crops emerging, it is time to start scouting fields. With tight margins on most commodities, farmers need to be on top of their game applying the principles of integrated pest management (IPM) throughout the growing season. Start with emergence. Evaluate stands for uniformity, plant population and plant health. If your observations are concerning, why? Was it mechanical, insects or seedling disease? With the excessive rainfall throughout the region, is the stand adequate for optimal yields?
Scouting fields and monitoring crops throughout the growing season can help you make more informed management decisions. Know what the action thresholds are for insects and diseases to avoid unnecessary costs. Walking your field on a regular basis keep you on top of the potential issues that may come up during the growing season.
Weather report
The unseasonal warm weather over the past week brought the seasonal growing degree-day totals closer to the five-year average according the Michigan State University Enviroweather stations in Ithaca and Freeland. Fields are drying out a farmers are able resume planting. The heat along with the driving rains of last week has created surface crusting and emergence issues. View Jeff Andresen's weekly weather report below.
Pest report
Black cutworm moth catches have fallen to single digit this past week. It appears peak flight has passed. Armyworm moth catches climbed dramatically this past week in one hardstack trap in central Michigan. There were over 1,000 moths caught for the week. Do not automatically assume there will be feeding. Conditions will have to be favorable for egglaying and hatching. It will be seven to 10 days before we can anticipate feeding. Scout wheat fields and other vulnerable crops for this pest infestations.
No reports of diseases at this point.
Commodity reports
Planting resumed early in the week after saturated conditions sidelined farmers for most of the past week. It is estimated that about 80% of the corn is planted with many farmers finished. There are reports of emergence problems from surface crusting. Some farmers are running rotary hoes and in some cases replanting.
The soybean crop is emerging slowly fighting the crusting due to the driving rains and hot temperatures last week. Planting is following at similar pace as corn with an estimated 80% of the crop planted. Scout fields for evidence of crusting and take appropriate action. Watch for early season weed emergence, especially if you suspect they might be herbicide resistant. It is important to get these weeds under control early. Evaluate stands and determine if the plant counts are adequate for optimum yields.
The wheat crop has flag leaves fully emerged and the warm weather is moving the crop along rapidly. There are reports of severe weed problems in some fields. The primary problem weeds are downy brome and annual bluegrass. Strip rust has been identified at the MSU Wheat Breeding farm. Armyworm moth flights are occurring, so scout fields for these insects and disease pressure. Monitoring the Wheat Head Scab Prediction Model as we approach time for fungicide applications.
Alfalfa is growing rapidly with the heat and adequate moisture. Harvest has just begun for farmers with aggressive cutting schedules. There are reports of winter injury on older stands with newer stands surviving winter much better. There is still water standing in in many field complicating harvest.
Oat and barley crops are planted and emerging nicely.
How to connect
Please join Paul Gross and Monica Jean weekly on Wednesdays for your lunch break at 12:30 p.m. Farmer and agribusiness join to discuss what is happening in our central Michigan farming communities. No registration, just follow this link: https://bit.ly/lubrk4u
The MSU Extension field crops team has a Twitter and Facebook Please like or follow us @MSUEFieldCrops.
If you would like to be added to our regional newsletter, please email Monica Jean at atkinmon@msu.edu or Paul Gross at grossp@msu.edu.