Central Lake entrepreneur saves lives
Small community based company makes body armor for law enforcement, military and prison system.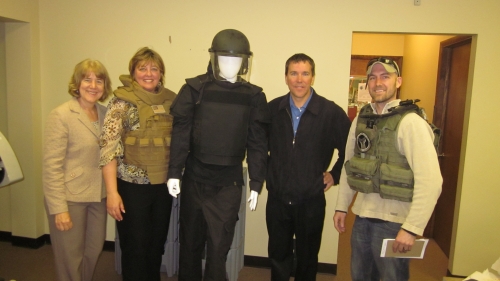 Nestled along Antrim County's chain of lakes is the quiet community of Central Lake, home to a large company with global impacts. Armor Express, makers of concealable body armor for law enforcement and the U.S. military, is a wonderful story of entrepreneurship.
In 2011, Armor Express purchased a 45,000 sq. ft. facility with the expectation of hiring 100 additional employees. Working with Michigan State University Extension partner organization, the Northern Lakes Economic Alliance, Central Lake Village and Township granted Armor Express tax abatements on their new investment and secured a $400,000 Community Development Block Grant from the Michigan Economic Development Corporation (MEDC) to help with expansion financing. The new Central Lake facility has an administration building, a production facility and a tech center for developing and testing products (including a 1,000 sq. ft. ballistic testing range).
To help foster their economic growth, Armor Express also took advantage of resources from:
Procurement Technical Assistance Center of Northwest Michigan

Northwest Michigan College's Lean Learning program

Michigan Economic Development Corporation Diversification Program

Northwest Michigan Works! employment services
The utmost care and attention to detail are given to each piece of body armor, knowing that any one of them could save a life. Body armor is checked and rechecked, and then checked again.
Entrepreneurs like Central Lake Armor Express CEO Matt Davis and his team have a vision, knowledge, perseverance and the optimism that makes this country strong. For more information about the company and their products, visit the Armor Express website
Michigan State University Extension has had a unique partnership relationship with the regional economic development organization Northern Lakes Economic Alliance (NLEA) for more than 20 years. Recognizing the strength of combining resources, this partnership focuses on economic development, entrepreneurship growth and community infrastructure throughout a four-county region in the northwest Lower Peninsula, specifically Antrim, Charlevoix, Cheboygan and Emmet counties. As a result, the NLEA utilizes resources offered through MSU Extension as it provides leadership to state-wide programs sponsored by MSU Extension.
Photo caption: (from left to right) Lydia Murray, Michigan Economic Development Corporation; Sheri Rhoads, Northern Lakes Economic Alliance; get a first-hand look at body armor with Ed Kiessel and a staff member both of Armor Express.