Central Michigan field crops regional report – April 25, 2013
Even though soils are too wet to plant and need to dry out, we are still within a normal planting window and good yield potential is not at risk.
Weather
Rainfall totals recorded at the Ithaca Enviro-weather station pretty much sum up conditions across the central region (see table below). We are about two weeks behind the 30-year average for growing degree day totals for this time of year (April).
Rainfall totals (inches) recorded at the Ithaca Enviro-weather station from 2008-2013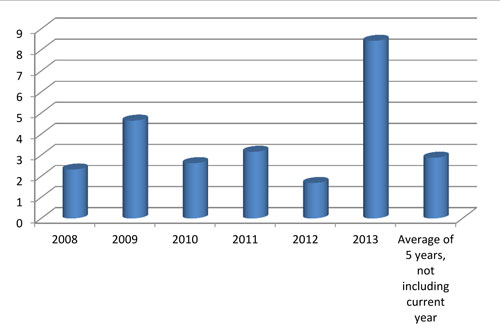 Source: MSU Enviro-weather
Mid-day soil temperatures are in the low 40s and saturated. However, warmer temperatures are on the way. The 6-10 day outlook has the region returning to more normal temperatures and rainfall. The planting window will be narrower, and it will take patience to wait until the wet soils dry out. We still have the opportunity to plant in that optimal window of the first few weeks in May. Our yield potential is still not at risk.
Commodity reports
Wheat is in Feeke's stage 3-4 and growing slowly. The severe flooding over the past two weeks will result in high percentages of field that are drowned out. As temperatures warm up and field dry out over the next week, it will be important that growers assess these stands and make a determination on the extent of damage. It may not be economical to keep some of these stands.
Another challenge will be determining nitrogen loss for those who have made earlier applications. Watch fields closely as the winter annuals are growing nicely and will need to be managed in a timely manner.
Alfalfa has broken dormancy and growth has been slow. There will be stand loss due to the flooding, but the extent will not be known until the water recedes.
It will take patience to wait until these wet soils dry out before planting. Remember, we are still within a normal planting window and good yield potential is not at risk. Good yields always start with stands. Planting too quickly before conditions dry out can result in non-uniform emergence. Plants that emerge later tend to always stay behind and lose out in the competition for water, nutrients and light and reduce the productivity of the remaining plants. This might be a good time to just go fishing for a few days.
Follow crop progress and pest updates throughout the growing season from Michigan State University Extension.
Other field crop regional reports from this week