Cheese: From cow to consumer and the jobs along the way
Lesson featuring dairy teaches participants about jobs and careers in the natural resources and Agriscience career pathway.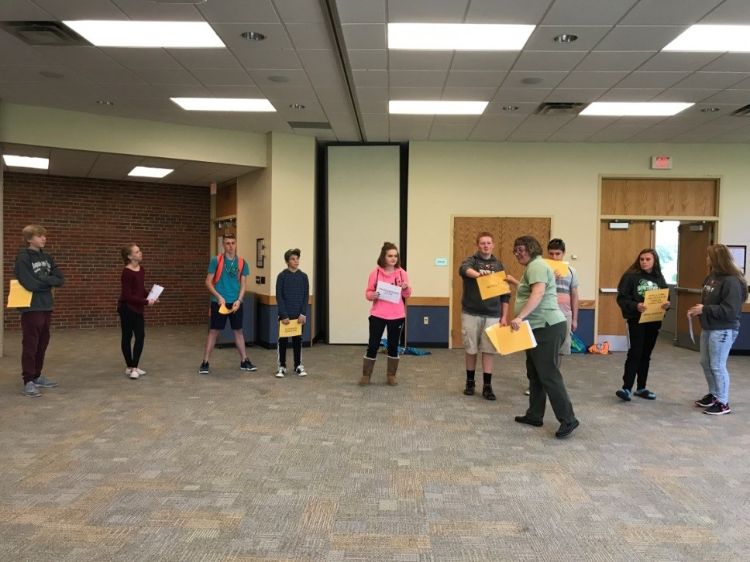 I recently created an educational 4-H lesson that I call "Cheese: From Cow to Consumer and the Jobs along the Way." With June being National Dairy Month, it seems the perfect time to share this idea with you for summer programming.
This lesson is based on the "Wheat: From Seed to Shelf" lesson from the older national 4-H curriculum WOW (Wild Over Work). WOW is intended for K-6 grade participants.
"Cheese: From Cow to Consumer and the Jobs along the Way" is an introductory lesson that helps the audience understand, as a consumer, how cheese gets from the cow to you, while learning about many possible jobs and careers that are involved in the process. We also emphasize these jobs and careers are part of the Career Pathways traditionally taught in Michigan in the area of natural resources and agriscience.
With help from Michigan State University Extension youth dairy educator Melissa Elischer, I created several 8.5-inch by 11-inch flashcards each with a different job or related career, or a step in the process of making cheese and getting it to the consumer. For a group of 25, it then goes something like this:
Have participants stand and form a big circle. As the facilitator, work from the center of the circle.
Distribute the flashcards so each participant has one card. If the group is small, each person may have two cards.
You may wish to share a couple of dairy facts with participants. The United Dairy Industry of Michigan has lots of information.
Have participants hold their card up, facing the other participants, and make sure all cards are right side up.
Work through a discussion while shifting cards or participants around the circle to arrange the steps in the process along with the jobs and careers one might have along the way:

Maintain the circle so everyone can see at all times.
For some jobs and careers, there may be more than one place along the trail where you might see that job or career. For example, an entrepreneur or support staff person might be found near the farm or at a small cheese plant, or both. Either is appropriate.

The important message for participants to understand is there are many jobs and careers involved in this example way beyond being a dairy herd manager or retailer—there are many opportunities and all are associated with the natural resources and agriscience career pathway and industry. Leave participants with the thought that whether their interests are with technology, math, art, science, food, etc., there may be a future place for them in this career pathway.
You may also wrap up with discussion around these questions with participants:

Can anyone think of any other job or career that would fit this example that has not yet been included?
What new things did you learn?
Do you have family or friends that work somewhere related to this career pathway?
What jobs or careers mentioned today might you explore in the future?
Cass County 4-H program coordinator Stephanie Consford and I piloted this lesson during the May 26, 2017, Growing Success career exploration event as part of Southwestern Michigan College's Educational Talent Search program. Approximately 106 sixth to eighth grade students from Cass and Berrien counties participated with us in the 30-minute lesson. It worked well with this age group and their teachers. You could easily adapt this idea to explore many other Michigan products and related jobs.
Michigan State University Extension and the Michigan 4-H Youth Development program help prepare young people for successful futures. As a result of career exploration and workforce preparation activities, thousands of Michigan youth are better equipped to make important decisions about their professional future, ready to contribute to the workforce and able to take fiscal responsibility in their personal lives.