Children and mature caretakers
Child development can be positively impacted by older caretakers like grandparents.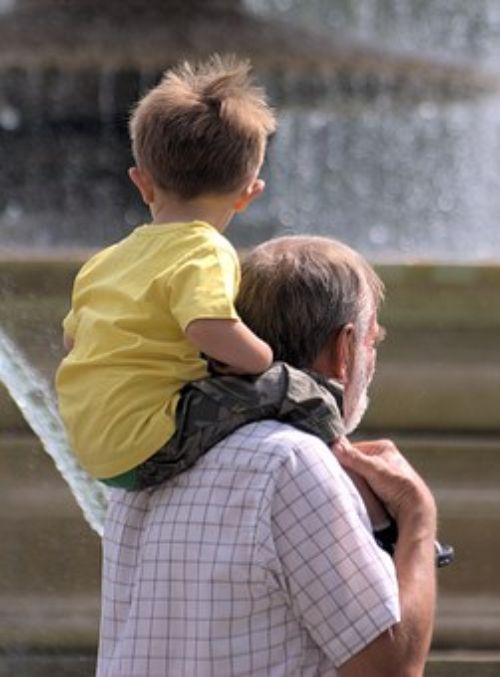 Grandparents and other mature adults can offer a wealth of experiences to children. Grandparents do not need to settle for sedentary activities, like reading, but with some advance planning, grandparents and other older adults can help contribute to a child's development. According to Zero to Three, activities can range from building the senses, building language skills, physical activities and quiet activities. To build senses adults can create a water play area providing a large plastic tub with different sized plastic cups, funnels and other objects. These objects can provide different sound or become instruments. Adding some singing can also create different beats and rhythms. Treasure bottles become another fun activity when you add water or sand and small interesting objects. Once the bottle is completed, glue the top on and enjoy! A "bubble play" is another option that can contribute to youth development. Creating mounds of bubbles can be done so by providing straws; make sure children don't eat the bubbles!
There are many activities that provide ways to incorporate thinking skills. One is by planting seeds and having children water and watch the plants grow. Michigan State University Extension suggests making memory cards out of card board and stickers, making scent jars and guessing what the scent is. Another activity is using empty paper towel tubes and having young children pull scarves through it. Similarly, dropping balls into the tube and watching them come out the bottom is equally as entertaining. Activities that help build language include finding pictures when prompted, or naming pictures when a child is being read to. Another is naming body parts when a child is being changed. Filling a bag with objects and naming them as they are being pulled out is also a great development tactic. Playing "House" continues to be a fun, creative game that involves a lot of language.
For action activities, individuals can go for a walk and provide the child with a basket so they can collect leaves, acorns, rocks and other things that may be of interest to them. Later discuss what they found on your walk. A physical activity option to consider participating in is throwing some soft balls in the center of a large towel and bouncing the balls like "popcorn." Additional activities worth trying are making a tent and joining the child inside for a cozy reading time. A routine we all do daily, and often forget that children can take part in, is cooking; they love to help. Toddlers can help pour, mix, shred lettuce and decorate cookies. To add some problem solving, adults can ask older children to set the table with plastic ware. If they forget a setting, you can add jokingly, "Do you think your uncle wants to eat?" This would be a gentle reminder and, at the same time, give youth the opportunity to count the number of settings needed. Any cooking or kitchen activity with children should not involve hot liquids, cutting utensils such as knives and being close to hot stoves. It is best children dress in casual wear and not their best to avoid fussing over spills. It will make the experience more enjoyable to both the adult and the child. As time passes, reflecting on these exciting times will make us appreciate the time we took to build those special memories.