Choose your virtual adventure this summer and plug into 4-H with Exploration Days: Expanded
4-H Exploration Days: Expanded offers a variety of sessions for youth to pick from this summer.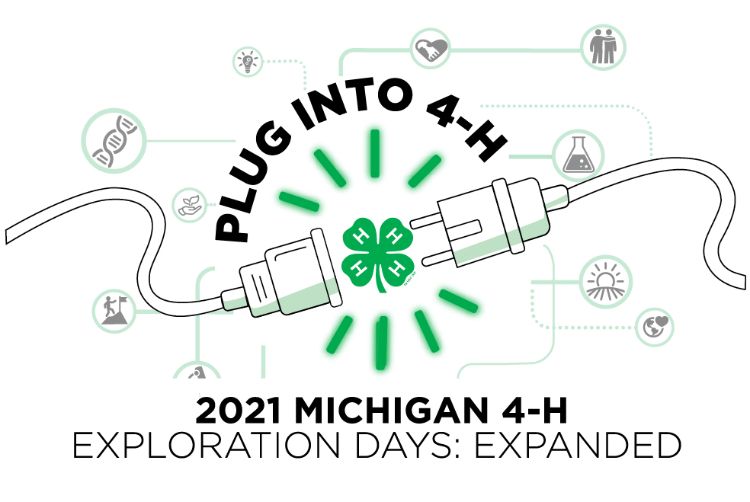 Looking for something for your teenage to do this summer? Consider signing them up for an affordable precollege program designed for and by youth. Michigan 4-H youth programs is continuing the tradition of offering high quality youth development programs this summer. 4-H Exploration Days has traditionally been a popular program held on the campus of Michigan State University in June. For 2021, this program has been converted into a virtual format with many of the same components of a face-to-face program including breakout sessions, optional free time offerings, and opportunities to build connections to other youth from across the state, MSU and Michigan 4-H.
4-H Exploration Days: Expanded will be held June 22-24, 2021. This three-day precollege program is open to any youth 12 to 19 years of age as of Jan. 1, 2021. Youth attending this engaging and virtual experience will have the opportunity to listen to inspirational speakers, select from more than 60 breakout sessions, participate in conversations to apply what they have learned in their community, and celebrate 4-H accomplishments over the past year.
Breakout sessions include topics such as making crepes, learning about drones, practicing yoga, discussing ethics in animal care, hearing from professionals in career paths such as veterinary science, early childhood education, law, journalism, screen writing, medicine and many more fun topics. In addition to breakout sessions, youth can also pick free time activities that will be taking place throughout the three days. These free time activities may offer a quick glimpse into MSU, allow youth to build relationships with peers, learn about a new project or just have fun!
Youth that participate in this three-day conference will be eligible for a $2,000 precollege scholarship through MSU. This scholarship is open to youth in grades 9-11. Precollege scholarship information will be shared with eligible participants after the event.
Registration for this program closes May 28. The cost to attend is $20. Please contact your local Michigan State University Extension county office for scholarships that may be offered from your county. In addition, MSU Extension is offering t-shirts and sweatshirts for this event that can be purchased separately.
We welcome youth ages 12-19 to choose their own virtual adventure as they plug into 4-H this summer and join us at Exploration Days: Expanded!