Citizen scientists invited to learn how to protect endangered dragonfly in northeast Michigan
A new citizen science effort led by Michigan Natural Features Inventory is looking for community involvement in protecting the Hine's Emerald Dragonfly and natural habitats at Negwegon and Thompson's Harbor State Parks along northern Lake Huron.
Odds are you would not only recognize a dragonfly, but have likely enjoyed, firsthand, their colorful diversity and amazing aerobatics around Michigan's abundant wetlands and waterways. On Thursday, June 12 from 10 a.m. to 12 noon, volunteer 'citizen scientists' are invited to gather at the Alcona Township Hall (5576 N US Highway 23, Black River, Michigan) to help protect one particular dragonfly species—the endangered Hine's Emerald Dragonfly—by monitoring its critical habitats in northeast Michigan.
A dragonfly is a dragonfly, right? Amazingly, some 150 species of dragonflies and damselflies (related, and in the same family as dragonflies) are known to inhabit Michigan. Their names— darners and skimmers, clubtails and graybacks, among others—are as diverse as their colorful patterns, shapes, and sizes. Equally diverse are the water and wetland habitats these species inhabit, ranging from vernal pools, wetland marshes and woodland swamps to rivers and streams, and ponds and lakes. Where there is water, you are likely to find some species of dragonfly.
Several species are quite common to us such as the Green Darner Dragonfly, referred by some as Michigan's unofficial state insect. Yet others are more rare—even threatened or endangered— due to limited or negatively impacted water habitats. The Federally endangered Hine's Emerald Dragonfly is one example of a rare species that provides opportunities for promoting biodiversity conservation—conservation of a variety of species and their habitats. This species is threatened, in part, due to its very specific alkaline wetland habitat requirements. Hi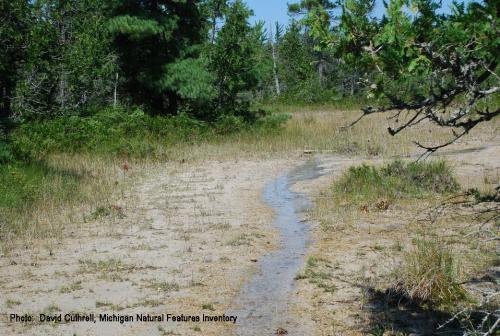 gh quality northern fen habitat is uncommon in the Great Lakes region. Important habitat characteristics of Hine's Emerald sites include wetlands dominated by grasses, and sedges, which contain seeps, or slow moving rivulets; cool, shallow water slowly flowing through vegetation; and open areas in close proximity to forest edge. The shallow, flowing, cool water provides important larval habitat and the open areas with adjacent woodland edge provide adult hunting and roosting habitat. This habitat is threatened by development and the invasion of high impact, non-native species. Conservation of the Hine's Emerald Dragonfly demonstrates the critical ties between each species and their specific habitat requirements, of issue anywhere wetland habitats are encroached upon by humans and invasive species.
A new citizen science effort led by Michigan Natural Features Inventory, a program of Michigan State University Extension, aims to bolster citizen and community involvement help in protecting the Hine's Emerald Dragonfly and high quality natural habitats at Negwegon and Thompson's Harbor State Parks (both located along the shores of northern Lake Huron). This opportunity to collaborate with local communities to train and involve citizen volunteers is possible by a grant from the U.S. Fish and Wildlife Service Coastal Program through the Great Lakes Restoration Initiative; and is supported, locally, through a partnership with Michigan Sea Grant, Huron Pines, Friends of Negwegon and Michigan Department of Natural Resources, Parks Stewardship Program.
Anyone interested in learning more about these parks and this two- year project can participate in the June 12 informational session. Participating volunteers will have an opportunity to become a volunteer 'citizen scientist' to help find Hine's Emerald Dragonfly larval habitat and map invasive species at the same time. Those attending the informational session will learn about unique plants, animals and natural communities that occur, here, including the extremely rare Hine's Emerald Dragonfly, and how invasive plants threaten these important species and habitats. Participants will also get information about upcoming trainings, and how to participate in upcoming field surveys scheduled for August 4-8 and September 22-26, 2014.
Please register by June 5 to attend the free presentation. To register, contact: Eric Ostrander or Colleen Higgins, Harrisville State Park (989-724-5126 or Ostrandere1@michigan.gov). For more information about the Hine's Emerald Dragonfly Project, contact: Daria Hyde, Michigan Natural Features Inventory (517-284-6189 or hydeda@msu.edu).