Class is in session: Learn about Michigan's lakes and streams
Whether you prefer in-person, online, or field based learning experiences, MSU Extension has something to offer!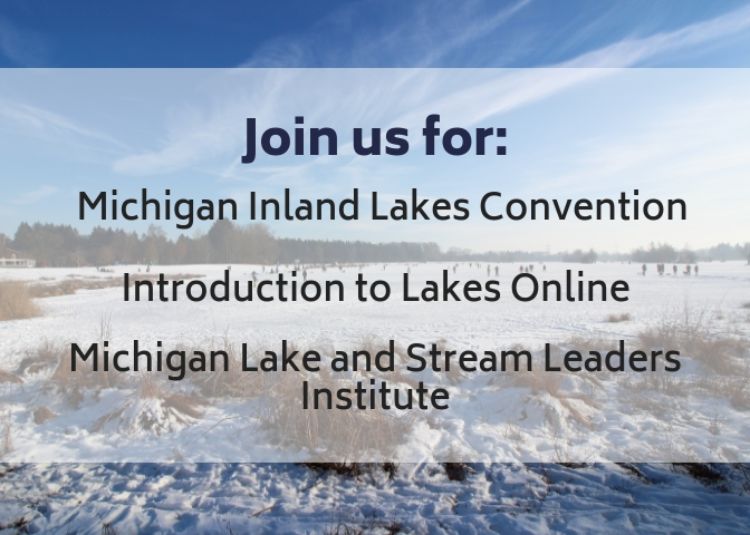 Fall is fast approaching, bringing with it the cold, frozen months that change how we enjoy our inland lakes. While the seasonal change means putting away the bathing suits and boats, it is an opportunity for ice fishing and skating. Shorter days can also be used for learning about lakes and ways to protect and improve them. Michigan State University Extension invites you to take part in off-season learning opportunities: the Michigan Inland Lakes Convention in October, the Introduction to Lakes Online course in January and February, and putting together your application to join the Michigan Lake and Stream Leaders Institute this spring!
Michigan Inland Lakes Convention
One opportunity to engage with our inland lakes is just around the corner – the 2018 Michigan Inland Lakes Convention in Grand Rapids on Oct. 4 and Oct. 5. The event will highlight challenges and solutions to protect Michigan's inland lakes including invasive species, lake management, water quality monitoring, water law, and more through presentations, workshops, and field trips. Keynote speakers include Bill Creal, former Water Resources Division Chief for the Michigan Department of Environmental Quality, and Lisa Borre of the Cary Institute of Ecosystem Studies, who are both speaking about topics in the conference's theme of "Working Together for Healthy Lakes". The event is being hosted by the Michigan Inland Lakes Partnership alongside the Michigan Clean Water Corps, Michigan's volunteer lake and stream monitoring program. Registration is available online until Sept. 28. Early bird (through Sept. 14) and student registration discounts are available.
Introduction to Lakes
Another way to expand your knowledge about inland lakes is through the six-week online Introduction to Lakes course beginning Jan. 22, 2019. It is specially designed for citizens and professionals alike that want to learn (or get a refresher) about lake ecology, watersheds, shorelines, Michigan water law, aquatic plant management, and citizen involvement in lake stewardship. From the comfort of home or office, you will have 24/7 access to six units complete with video lectures, interactive activities, resource lists, discussion forums, quizzes, and live chat sessions with classmates and Michigan State University Extension experts. To learn more about the course and to sign up for an email alert when registration opens visit the Introduction to Lakes website.
Lake and Stream Leaders Institute
Ready to take your stewardship efforts to the next level? The 2019 Lake and Stream Leaders Institute will run May - October. You are invited to apply starting in October. The Institute provides outdoor and classroom experiences that will improve your understanding of lake and stream ecology and management, while developing your communication, leadership, and conflict resolution skills. Experts from academia, natural resource agencies, and local communities will share their experiences and passion for Michigan's waters with you. The Institute is conducted through three sessions held across Michigan. To learn more about the Institute and to sign up for an email alert when the application period opens, visit the Lake and Stream Leaders Institute website.
Come join MSU Extension in the off-season and learn about the lakes that make Michigan great.