Clean Boats, Clean Waters program prevents spread of aquatic invasive species
With more than 11,000 inland lakes in Michigan, volunteers are needed in the statewide Clean Boats, Clean Waters program to help stop the spread of aquatic invasive species from lake to lake.
Aquatic Invasive Species Awareness Week in Michigan: June 9-17, 2012
As boating season begins, newly trained volunteers are gearing up to help boaters inspect equipment for aquatic invasive species that threaten the health and vitality of Michigan's Great Lakes and inland waters. Volunteers will be stationed at boat launches and armed with information every boater should know.
These volunteers are part of Clean Boats, Clean Waters, a Michigan Sea Grant program aimed at preventing the spread of aquatic invasive species (AIS) in Mi
chigan inland waters. Clean Boats, Clean Waters volunteers educate boaters about where they are most likely to find aquatic invasive species on their vessels and equipment.
"The most surprising thing I learned while conducting boat inspections on my lake is the number of boaters who are completely unaware of invasive species or that they risk spreading Eurasian water milfoil, which is prevalent in our lake, to other lakes surrounding us," said Marilyn Smith, president of the Paradise Lake Association and Clean Boats, Clean Waters volunteer.
Nearly one million recreational watercraft are registered in Michigan. With more than 11,000 inland lakes and 39,000 square miles of Great Lakes waters, many boaters go from lake to lake to enjoy this abundant resource. However, when boaters go from one lake to another they significantly increase the risk of transporting harmful invasive species - which is why Clean Boats, Clean Waters volunteers are so vital.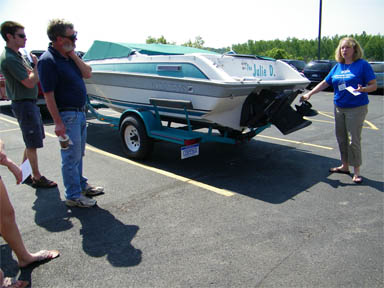 Volunteers in the statewide Clean Boats, Clean Waters program show boaters how to inspect their equipment, demonstrate proper cleaning techniques for boats and trailers, and share educational information about invasive species. For example, if an invasive plant such as Eurasian water milfoil is found tangled on a trailer, volunteers help the boater remove the plant and discuss why it would be detrimental to the lake if such a specie was to be introduced.
Boaters, anglers and even swimmers can unintentionally spread invasive species from one water body to another when invaders hitch a ride on their equipment. Invasive species like zebra mussels cling to equipment like boat hulls and trailers, and invasive plants like Eurasian water milfoil commonly become entangled in boat propellers and on trailers. All AIS are detrimental to Michigan's aquatic ecosystems because they overtake environments as they rapidly reproduce.
Clean Boats, Clean Waters is always looking for motivated volunteers to operate boat launches. This summer is especially important because it may be the last time this program is offered completely free to participants. To become involved, a lake group attends a free 3-hour training learning AIS prevention, identification of common invasive species, and how to properly inspect a boat and trailer for AIS hitchhikers. Participants also receive a handbook on Clean Boats, Clean Waters and each group receives a resource kit containing AIS identification cards, stickers, boat check point posters to hang at their local launches, key floats and other useful outreach materials.
To get started with AIS prevention, there are three easy steps everyone can follow whenever leaving body of water:
1. Remove any visible mud, plants, fish or animals before transporting equipment.
2. Drain water from equipment (boat, motor, trailer, live wells) before transporting.
3. Clean and dry anything that comes into contact with water (equipment, clothing, dogs, etc.).
Michigan law prohibits placing a boat, trailer, or equipment in the water with plant material attached, as well as possessing or transporting several live non-native fish. Never release plants, fish or animals into a body of water unless they came out of that body of water.
If you would like more information on how to become involved with Clean Boats, Clean Waters, email the program at cbcw@msu.edu or visit the website. For more information about what you can do to prevent invasive species from hitching a ride on your equipment, visit the Protect Your Waters website.