Clean water and sanitation: Five facts to becoming informed and engaged global citizens
Youth can take action as engaged global citizens to help ensure people everywhere have access to clean water and sanitation by learning about Goal 6 of the UN Sustainable Development Goals.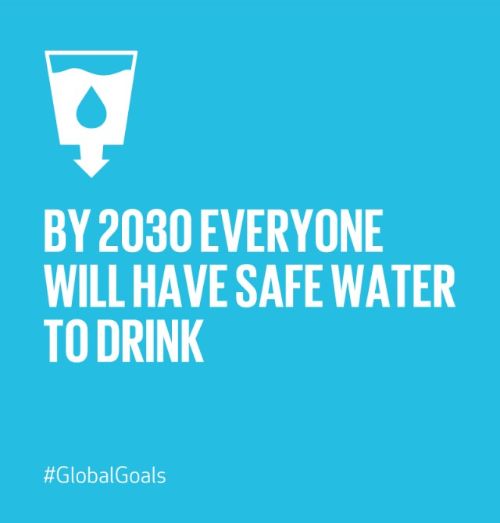 Toilets are probably not one of the first things most people think about when they are considering ways they can help make the world a better place, but lack of access to clean water and sanitation is a major global issue affecting billions of people around the world every year. Leaders from 193 countries have agreed to ensure access to water and sanitation for all people by the year 2030, which is Goal 6 of the United Nations (UN) Sustainable Development Goals. The Sustainable Development Goals are 17 interconnected goals that seek to transform our world by ending all forms of poverty, eliminating inequalities and improving the state of the world's natural and human-made environments through sustained multinational cooperation and efforts in the next 15 years.
By learning about, teaching about and taking action on the state of clean water and sanitation around the world, young people can play a valuable leadership role in helping to accomplish the Sustainable Development Goals. Here are five important facts and some educational resources related to Goal 6 of the Sustainable Development Goals that can help youth learn and engage as global citizens, according to the UN.
Globally, 2.4 billion people do not have access to toilets or latrines. Earlier this year, the UN declared that access to clean sanitation is a basic human right. Without access to clean sanitation, people are not able to pursue and enjoy their other human rights, such as their right to health, life and education. The UN has found that "more than 443 million school days are lost every year due to sanitation and water related issues. Inadequate sanitation facilities are a common barrier for school attendance, particularly for girls."
Approximately 1.8 billion people use a source of drinking water that is fecally contaminated. That means one in four people around the world have to use water that has been contaminated by human waste, which is a potential source of deadly pathogens and diseases.
One thousand children die every day due to preventable water and sanitation-related diarrheal diseases, which continue to be a major source of death in children under 5. "Worldwide, more than two million people die every year from diarrheal diseases. Poor hygiene and unsafe water are responsible for nearly 90 percent of these deaths and mostly affect children," according to the UN.
Approximately 663 million people live without access to improved drinking water sources. "An improved drinking-water source is defined as one that, by nature of its construction or through active intervention, is protected from outside contamination, in particular from contamination with fecal matter, according to the WHO/UNICEF Joint Monitoring Programme for Water Supply and Sanitation.
Water scarcity affects more than 40 percent of the global population and is projected to rise.
Goal 6 of the Sustainable Development Goals seeks to improve the global populations access to clean water and sanitation by the year 2030 by ending open defection, reducing water pollution, increasing water-use efficiency, implementing "integrated water resources management," protecting and restoring water-related ecosystems and expanding water harvesting, desalination, wastewater treatment and water recycling and reuse in developing countries.
Researchers at Michigan State University are engaged in efforts that will help reach the targets set out in Goal 6 of the Sustainable Development Goals. MSU professor Joan Rose, the 2016 Stockholm Water Prize Laureate, along with other university researchers, are studying innovative new materials for use in water filters as a way to make it easier and less costly for people to access clean and safe drinking water.
Adult and youth leaders can help other youth and children learn about global water quality, clean water access and sanitation issues in order to be informed and active global citizens. Here are some activities and lesson plans that can be used to help teach others about these issues:
MSU Extension and the Michigan 4-H Youth Development program helps to prepare youth as positive and engaged leaders and global citizens by providing educational experiences and resources for youth interested in developing knowledge and skills in these areas. To learn about the positive impact of Michigan 4-H youth leadership, civic engagement, citizenship and global/cultural programs, read our 2015 Impact Report: "Developing Civically Engaged Leaders."
Other articles in series