Cleaning up damaged trees after a windstorm
Use caution when dealing with downed trees and limbs and don't hesitate to call a professional.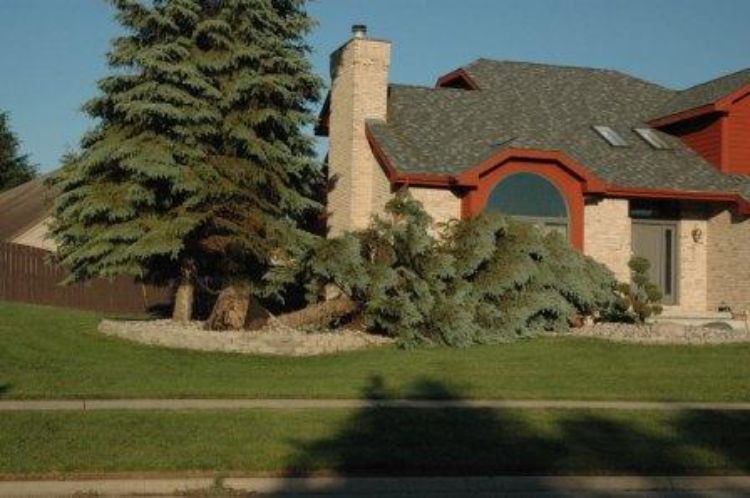 Wednesday's (March 8, 2017) windstorm caused widespread damage to trees across Michigan. The storm was unusual in several respects. Unlike our typical spring or summer storms, which move in and out quickly, Wednesday's storm brought sustained winds in excess of 40 mph that persisted for most of the daylight hours. The storm affected almost the entire state, whereas thunderstorms usually result in a line of damage. The sustained, high winds resulted in innumerable power outages and damaged houses and cars. The vast majority of the storm-related damage was associated with downed trees and limbs.
Evergreen conifers, in particular, seemed to bear the brunt of the storm. Many spruce and pine trees were up-rooted as a result of the sustained force of the day-long winds. Deciduous trees were severely impacted as well, but damage would have been even worse had those trees be in leaf.
Since the storm, TV and newspaper reports have shown homeowners cleaning up storm debris. In working around downed and damaged trees, it is critical homeowners use extreme caution. A 20-foot long oak log that is 14 inches in diameter weighs over half a ton. Limbs and logs can pivot unexpectedly and it is often difficult to predict which way they will move. If you are a homeowner or someone who advises homeowners, there are several good resources on the web to assist with the process of assessing storm damage to trees after a storm.
The National Arbor Day Foundation has a storm recovery website that provides practical tips for dealing with storm-damaged trees. The website also includes resources for media including press releases and images that are useful for educating the public on steps to take during storm recovery.
The Minnesota Department of Natural Resources also has useful storm recovery information on their storm-damaged trees repair and replacement checklist website.
Michigan State University Extension advises homeowners with damaged trees to keep these points in mind:
Stay at least 25 feet away from any downed power lines and contact local authorities to report downed lines.
Damaged trees and hanging tree limbs are extremely dangerous. Trees that are damaged in storms often have decay or other hidden defects and can drop without warning. Walk around—not under—damaged trees and limbs.
If you are unsure if you can safely remove a limb or damaged tree, always err on the side of caution and contact a professional arborist or tree service company.
Be wary of "door-knockers" —individuals that descend into storm-ravaged areas and offer to perform tree clean-up or removal. Reputable, professional tree service companies rarely, if ever, solicit business door-to-door. Working around damaged trees is dangerous work that requires professional training and equipment. Look for arborists that are insured and certified by the International Society of Arboriculture.
Dr. Cregg's work is funded in part by MSU's AgBioResearch.