Colorful stems, bright green leaves and a powerhouse of nutrients
Swiss chard is a vegetable "star" with its impressive list of health promoting nutrients.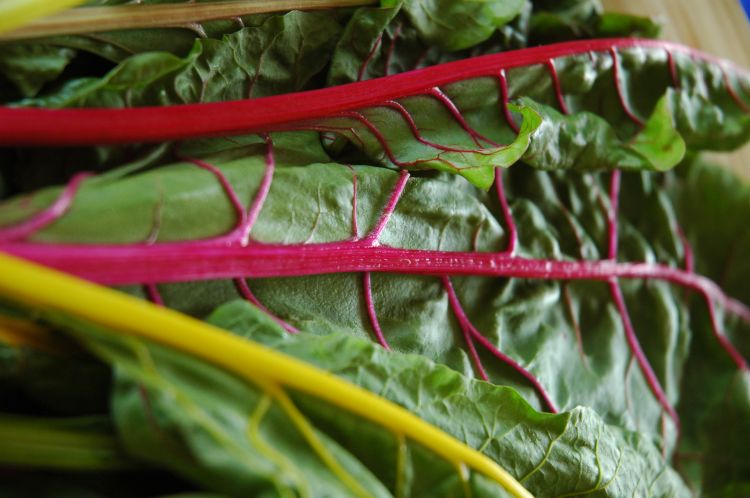 A vegetable that has become popular and is very nutrient dense is Swiss chard. Chard is a tall, leafy green vegetable commonly referred to as "Swiss chard." It belongs to the same family as beets and spinach, sharing a similar taste profile with a bitter, pungent and slightly salty flavor.
Swiss chard is truly one of the vegetable "stars" with its exceptionally impressive list of health promoting nutrients. Chard is an excellent vegetable source for vitamin K; four ounces provides about 700 percent of recommended intake. Vitamin K has a potential role in bone health by promoting bone formation and strengthening activity. Adequate vitamin K levels in the diet help limit neuronal damage in the brain. It is also a rich source of omega-3 fatty acids; vitamin A and flavonoids, anti-oxidants such as carotene, lutein and zea-xanthin. Carotenes convert to vitamin A inside the body.
Michigan State University Extension recommends chard's at its peak season, when it is at its best and in the greatest abundance at your local market, ranging from June through September. Swiss chard, along with kale, mustard greens and collard greens is one of several leafy green vegetables often referred to as "greens." It is a tall leafy green vegetable with a thick, crunchy stalk that comes in white, red or yellow with wide fan-like green leaves. Choose chard that has leaves that are vivid green in color and that do not display any browning or yellowing. The leaves should not be wilted nor should they have tiny holes. The stalks should look crisp and be unblemished.
Do not wash Swiss chard before storing as the exposure to water encourages spoilage. Place chard in a plastic storage bag and wrap the bag tightly around the chard, squeezing out as much of the air from the bag as possible. Place in the refrigerator where it will stay fresh for up to five days.
United States Department of Agriculture offers information and recipes for cooking greens from the SNAP-Ed Connection Recipe Finder database. Here is a quick and easy recipe for you and your family to enjoy.
Swiss Chard Salad with Cranberries, Almonds and Feta
Serves 4
Ingredients
1 bunch rainbow chard
2 Tablespoons olive oil
1 Tablespoons balsamic vinegar
1 teaspoon salt
Fresh ground black pepper
12 breakfast radishes, thinly sliced
1 shallot, minced
1/4 cup dried sweetened cranberries
1/4 cup almonds, toasted
1/4 cup crumbled feta cheese
1 bunch parsley, chiffonade
1 avocado
Directions
Wash the chard well and spin dry. Thinly slice, taking special care to slice the ribs particularly thin.
Add the olive oil, vinegar, salt and pepper to the chard. Massage well for about 15 seconds.
Add the radishes, shallot, cranberries, almonds, feta, parsley and avocado. Toss lightly to combine.
To contact an expert in your area, visit http://msue.anr.msu.edu/experts or call 888-MSUE4MI (888-678-3464)