Coming from LPI in 2015
The Land Policy Insitute was hard at work in 2014 seeking funding for valuable initiatives with MSU and stakeholder partners, which resulted in more than $1 million in new grants and contracts for 2015.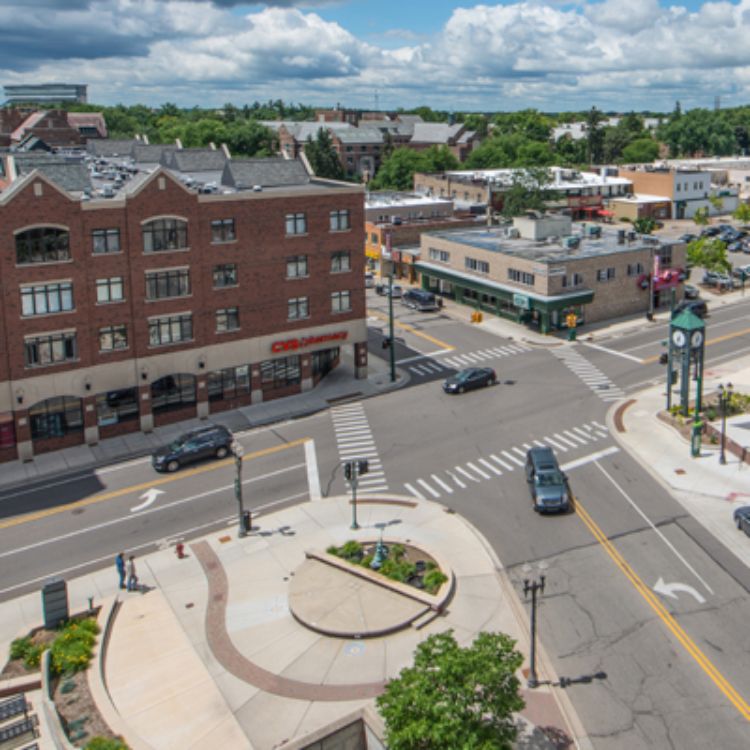 The Land Policy Institute was hard at work in 2014 seeking funding for valuable initiatives with MSU and stakeholder partners, which resulted in more than $1 million in new grants and contracts for 2015. Following is an update of projects that the LPI and the Planning & Zoning Center has recently embarked or that will continue in 2015.
Zoning Administrator Certificate Training Program in Winter 2015
The PZC is hosting the three-day Zoning Administrator Certificate Program starting January 20, 2015, in Frankenmuth. Registration is now closed with 30 new registrants. This is a popular training program for new and current Zoning Administrators, along with private consultants and county planners who consult with local ZAs. The training is held annually every Spring.
Placemaking Initiative Projects
This year will see the completion of several new products in support of the efforts of State agencies and the MIPlace Partnership Initiative with LPI's partners at the Michigan Municipal League, MSU School of Planning, Design and Construction faculty and students, and the Michigan State Housing Development Authority. A brief description of some of the products under development by LPI/PZC staff follows:
New Placemaking Guidebook: This is the biggest effort of 2014-2015. The PZC staff are currently synthesizing all the material in Version 4.0 of the Curriculum that and putting it into a new guidebook to be completed and published in Spring 2015. It will be more than 350-pages long.


Development of Placemaking Curriculum Version 5.0: After the Placemaking Guidebook is released (mentioned above), Version 5.0 of the Curriculum will be created based on the best material from previous versions. In addition, Module 7, the Placemaking Toolkit will be completed.


Placemaking Curriculum Training Opportunities: The Placemaking Curriculum will be delivered to another 5,000 people. A Placemaking Strategy Development Workshop series will be offered in more than 30 locations statewide.


Placemaking Assessment Tool: This self-help guide will be rolled out in Winter 2015.


WalkUP Studies Analysis: The LPI and other MIplace partners are engaged in a study with Smart Growth America and George Washington University to analyze Walkable Urban Places (WalkUPs) in six Michigan metros: Detroit, Flint, Saginaw, Lansing, Grand Rapids and Kalamazoo. The results will identify the most walkable and regionally significant places to target for future economic and community development efforts, including Strategic Placemaking.


Placemaking Score and Tool: The LPI will conduct a first phase analysis aimed at developing a Placemaking Score for Michigan. The assessment will include an inventory of all community design scoring systems, including Walk Score, STAR Communities, Irvine Minnesota Inventory System, LEED ND, Wisconsin Active Communities Assessment and others. Then, LPI will provide a recommendation for development of an effective tool, based on readily available data (where possible) that can be benchmarked and measured for progress.


PlacePlans: The SPDC and MML will prepare four new PlacePlans for Michigan communities, while Michigan planning consultants will assist with three more (and another five communities will be assisted to move existing PlacePlans closer to implementation).


Regional Prosperity Initiative Plan Analysis: The LPI will analyze Regional Prosperity Initiative Plans for inclusion of placemaking projects in particular centers, nodes and corridors. This analysis will take place in Spring 2015.
LPI Studies/Reports
Below are two upcoming projects for 2015. Check future editions of Land Policy News for announcements about other new projects we will be working on.
Ingham County Tax Auction Study
The LPI, in partnership with the MSU Center for Spatial Analysis of Recreation & Tourism (CSART), is engaged in the following activities to objectively and empirically measure economic impacts of the Ingham County Tax Auction Sale activities: 1) Literature Review; 2) Hedonic Property Price Analysis; 3) IMPLAN Economic Impact Assessment; and 4) Tax Auction and Land Bank Comparison. The LPI is conducting an extensive literature review on previous studies that have assessed the impact of property tax auctions, or similar mechanisms. Through the hedonic property price analysis, LPI and CSART are examining before and after impacts of land auction sales and interventions (mainly renovations and demolitions) to understand and provide empirical evidence that shows whether tax auction property activities have positive neighborhood impacts, as observed through nearby home sale prices or home appraisals. Finally, using an IMPLAN Economic Impact Assessment, the direct, indirect and induced economic impacts for employment, labor income, property-type income, and value of output are being generated. These figures will allow the Ingham County Treasurer's Office to determine the dollars flowing through the economy as a result of tax auction sale properties.
A report incorporating the findings from these activities will be provided to the Ingham County Treasurer's Office. The results of these analyses, taken together, provide a more comprehensive assessment of the value created and sustained by Ingham County's tax auction. This information could be used as a strategic decision support tool that can assist the Treasurer in formulating longer-range goals and objectives for neighborhood revitalization. This work is funded by the Ingham County Treasurer's Office.
Integrated Asset Management Tool for Vacant Properties & Infrastructure
The LPI, in partnership with Dr. Mohamed El-Gafy, Associate Professor in Construction Management, within the MSU School of Planning, Design and Construction, are undertaking a pilot project to determine the feasibility of an integrated asset management system that simultaneously assesses land use conditions, such as property vacancy, and conditions of road, water and sewer infrastructure. This project presents an innovative approach to assist water system providers and local land policy planners in legacy cities with integrated water infrastructure and land use planning that is more economically, socially and environmentally sustainable. Objectives of this approach include:
Assessing the condition of existing water, wastewater and stormwater infrastructure in neighborhoods with large or growing abandonment, as well as the physical and socio-economic characteristics of those areas, using Saginaw, MI, as a case study;


Creating a pilot integrated model that helps identify opportunities for more sustainable infrastructure and land use planning based on infrastructure condition and practical service considerations; and


Evaluating the impact of integrated planning alternatives, quantitatively from an economic standpoint, and qualitatively from a social and environmental standpoint. Infrastructure alternatives include best technologies for repairing, decommissioning and repurposing. Land use alternatives include options for repurposing vacant lands for short-, medium- or long-term use and incorporating sustainable considerations (e.g., new urban parks, stormwater retention).
This is a pilot project that will lay the foundation for additional analysis, tool development and outreach that will help cities to address a variety of issues related to the legacy of unsustainable infrastructure systems. It is anticipated that this project will be complete in Fall 2015. This approach is desperately needed in legacy cities, but can also be beneficial in any city experiencing infrastructure and land use challenges. This work is funded by the MSU Institute for Public Policy and Social Research's Michigan Applied Public Policy Research program.
Be sure to check future additions of Land Policy News for updates on these and other new LPI projects.