Great Lakes commercial fishers get hands-on experience in emergency procedures
Drill Conductor Training courses give vessel captains valuable safety lessons.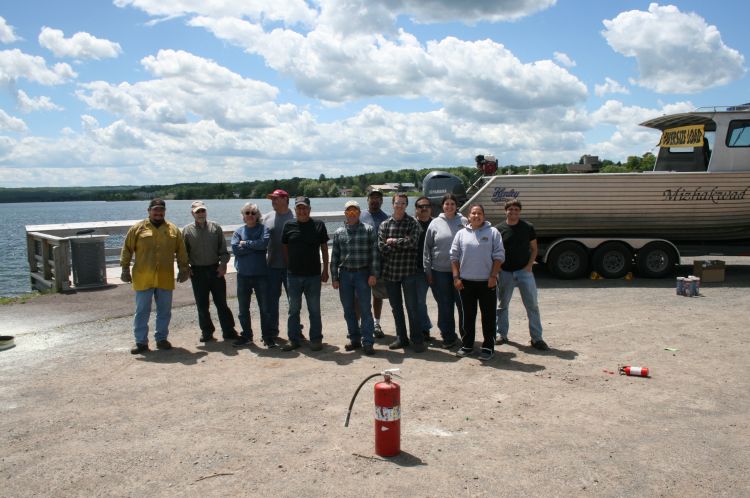 Commercial fishing is known to be one of the most dangerous professions and in recent years an effort has been made to reduce fatalities related to fishing. Some of the major emergencies that occur on commercial fishing vessels include person overboard, fire, and flooding. When these types of emergencies occur the entire commercial fishing vessel crew needs to know what their specific emergency assignments are so they can take immediate action to prevent the loss of life and possibly the vessel.
To assist with this effort Michigan Sea Grant coordinated six Drill Conductor Training courses held throughout the Great Lakes region recently to help Great Lakes commercial fishing vessel captains fulfill U.S. Coast Guard regulations related to instruction, drills and safety orientations, and onboard emergency instruction. Commercial fishers are required to practice monthly emergency drills that cover ten contingencies spelled out in the regulation. Persons conducting these drills must have passed a Drill Conductor Training course. The Alaska Marine Safety Education Association (AMSEA) assisted Michigan Sea Grant with these training efforts that were held in Michigan and Wisconsin.
One of the contingencies covered in the drills included fighting fire in different locations on a vessel. It has been shown that commercial fishers who actually operate a fire extinguisher to put out a fire increase their proficiency by three times compared to those who have never operated a fire extinguisher. Local fire departments assisted in the training efforts by allowing commercial fishers to extinguish a controlled fire. Drill Conductor Training courses have many hands-on exercises for commercial fishers as possible to help increase their proficiency in emergency situations.
Most commercial fishers do not wear personal floatation devices (PFDs) because they indicate that they are too bulky to work in and can get entangled in fishing gear. Fatalities that have occurred in the commercial fishery showed that over a five-year period there were 157 drownings related to person overboard and not one was wearing a PFD. During the Drill Conductor Training courses the commercial fishers were shown a variety of new types of PFDs on the market that are comfortable to wear and will not get entangled in fishing gear. Many have now expressed an interest in wearing these new types of PFDs. Commercial fishers now know that the best PFD is the one that they are wearing.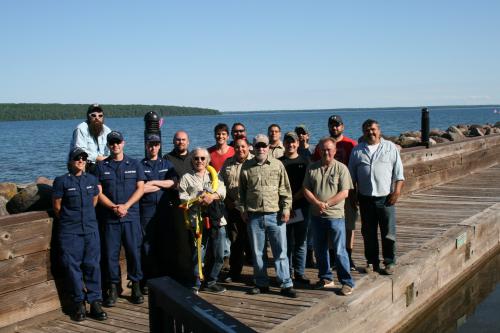 The Drill Conductor Training courses were evaluated by the 77 attendees who rated the training as excellent and indicated the emergency drills on actual vessels helped increase their proficiency should an emergency arise. The courses had representation from commercial fishers from Lakes Superior, Michigan, Huron, and Erie and also included four U.S. Coast Guard personnel needing the training for their jobs.
The success of the Drill Conductor Training courses can also be attributed to the local arrangements that were assisted with by our partners with the Great Lakes Indian Fish and Wildlife Commission, Keweenaw Bay Indian Community, Red Cliff Band of Lake Superior Chippewa, Wisconsin Sea Grant, Wisconsin Department of Natural Resources, King's Fish Market, Grand Traverse Band of Ottawa and Chippewa Indians, and Bay Port Fisheries.
Michigan Sea Grant helps to foster economic growth and protect Michigan's coastal, Great Lakes resources through education, research and outreach. A collaborative effort of the University of Michigan and Michigan State University and its MSU Extension, Michigan Sea Grant is part of the NOAA-National Sea Grant network of 33 university-based programs.