Community and school gardens promote sharing and diversity
Passing on skills from one generation to the next is one of the many benefits that come from sharing in community gardens.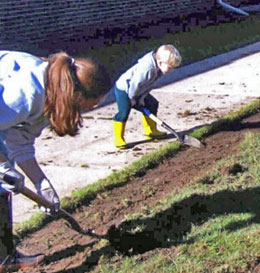 Community gardens provide more than a place to grow healthy vegetables and fruits. They also provide a place for community sharing. People who come together in community gardens also share their expertise, their cultures, ideas and feelings in addition to passing on skills to one another. According to the American Community Gardening Association, community gardens promote diversity and empower people in many ways.
Community gardens with youth involvement promote multi-generational participation, which has the benefit of empowerment and community building. One way to promote youth involvement in community gardens is to integrate a calendar of events into your garden planning. Community garden-related family events, art projects, and games for youth generate interest and add fun. Below is a brief list of websites offering suggestions for garden activities that include youth:
If you are looking to start a community or school garden that involve youth you may be interested in a previous article from Michigan State University Extension that discussed resources available to school garden leaders.
MSU Extension educators work throughout Michigan providing community food systems educational programming and assistance. For more information, you can contact an educator through MSU Extension's "Find an Expert" search tool using the keywords "community food systems."