Connecting Entrepreneurial Communities Conferences make an impact
Impressive results of knowledge gained and community plans for entrepreneurial action shared.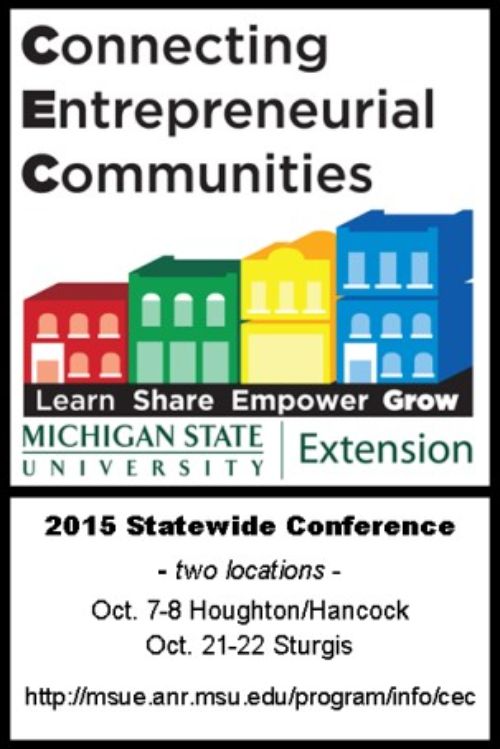 Supporting and developing entrepreneurs is essential to growing our economy. According to the latest Small Business Administration data available, Michigan is home to 856,682 small businesses employing 1,755, 901 workers. In an effort to increase this number, Michigan State University Extension organizes the Connecting Entrepreneurial Communities Conference each October.
In 2015, the Connecting Entrepreneurial Communities Conference was held in Houghton/Hancock, Michigan, Oct. 7-8 and Sturgis, Michigan, Oct. 21-22. These events attracted 194 individuals including 10 people from Indiana and five people from Wisconsin. Both conferences combined, the participants represented 39 counties and 64 communities in Michigan,
What impact did this conference have on the attendees? The following are the evaluation results:
96 percent (88/91) of participants increased knowledge of business concepts, tools and resources to build entrepreneurship in their community.
92 percent (48/52) of participants increased knowledge of youth entrepreneurship resources and programs.
95 percent (61/64) of participants increased knowledge of the value of agriculture, arts or cultural development as a useful economic development strategy.
91 percent (54/59) of participants increased knowledge of the value of tourism and the sustainable use of our natural resources as a useful economic development strategy.
87 percent (43/49) of participants acquired practical skills and strategies they can use to help create a more entrepreneurial community.
98 percent (95/97) of participants felt the conference was a good value.
More importantly, these are some of the participant's community development entrepreneurial plans as a result of the conference:
Young adult chamber of commerce through existing chamber of commerce or create a group at the high school level.
Implement a crowdfunding program to raise money for a park with statewide appeal to increase tourism in my community.
Look into renewable energy upgrades and financing availability.
Will explore several of the "sixty ideas in 60 minutes" session with our main street committee. Will also explore community based investment as a DDA effort.
Become more involved with "planning" on the community level as it relates to zoning. I really like the agriculture and forest initiatives and plan to work with other sister organizations.
Developing local eTeams in several communities.
Strengthen the local food system in my area and because of this conference I have a better idea of how to connect with food entrepreneurs.
Youth mentoring and youth entrepreneur group through 4-H.
In addition, participants had many comments about the conference in general, including:
This is the fifth one of these events I have attended, and it just seems to get better every year. I already can't wait for next year!
This is always a unique experience. Bravo! You guys knocked it out of the ballpark again.
One of the most fun and meaningful conferences I've ever attended. I cannot express enough the value of visiting the places and people that conferences feature. It was mentally, socially and physically engaging. I cannot wait for next year!
Stay informed on how your community can get connected to this conference and the many resources shared by liking our Connecting Entrepreneurial Communities Facebook page, calling 231-582-6482 or emailing andy@northernlakes.net your contact information. Plan to join us in Port Huron, Michigan, in October for the next Connecting Entrepreneurial Communities conference!