Construction project in place of community service benefits residents of one Michigan County
Dickinson County, in Michigan's Upper Peninsula, gives misdemeanor offenders a choice of constructing benches or picnic tables rather than doing community service or having to serve time in jail.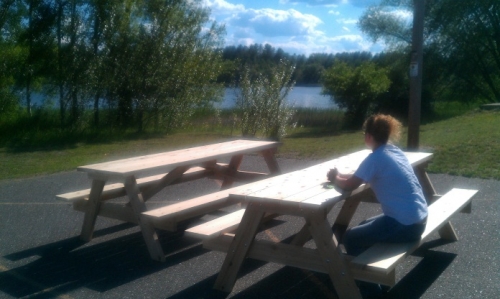 For the past twenty years, Dickinson County Michigan has been giving misdemeanor offenders a choice of how they can satisfy their court-ordered sentences. Instead of community service hours, individuals can elect to construct picnic tables or benches. Each satisfactorily completed table counts toward 40 hours of community service; benches receive a service time credit of 24 hours.
Individuals electing to construct projects are provided with plans and are expected to furnish all of the material needed for the projects themselves. Once completed, the projects are delivered by the individuals to a central location where they are inspected to ensure construction meets the plan requirements.
Completed projects are then made available to governments and non-profit organizations in the county. Some find their way to parks, campgrounds and other civic venues. In one instance, a local community was able to use the value of tables they had received as part of the match needed for a community development grant. Some non-profit groups have offered tables they received for sale as part of fund raising efforts. Placement of tables in urban settings contributes to the infrastructure of Placemaking for those communities.
The Community Corrections Program provides local circuit and district courts with community-based sentencing alternatives, and operates under the guidance of the West-Central U.P. Regional Community Corrections Board. Completed tables and benches are delivered by the offenders to a location adjacent to the local corrections program office for ease of inspections.
Agencies receiving the tables are responsible for arranging transportation, eventual use and for selecting the locations where they are to be placed. If success can be measured by demand, the program has been worth the efforts. Even after twenty years, there is still more demand for tables and benches then what is available.
Did you find this article useful?
---