Consumers Energy commits to $19 million investment in Michigan
Businesses take advantage of contacts made through new resource.
Consumers Energy recently signed a $19 million contract with Moran Iron Works for the fabrication of clean-air equipment that will be installed on the utility's power plants. The new contract covers flue gas duct work for Consumers Energy's largest coal-fired generating plant located in West Olive.
Though Consumers Energy has worked with Moran Iron Works before, the creation of this contract had a little help. The agreement is part of Consumer Energy's participation in Pure Michigan Business Connect (PMBC), a public-private initiative developed by the Michigan Economic Development Corporation (MEDC), designed to connect Michigan companies with opportunities to help them grow and expand.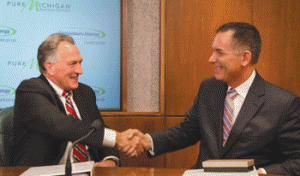 "Moran Iron Works is a Michigan manufacturing success story. Their metal fabrication craftsmanship on clean-air equipment is second-to-none," said Jack Hanson, senior vice president of energy resources for Consumers Energy. "Our Promise to Michigan includes supporting homegrown companies like Moran and working together to bring value to our customers and our state." Consumers Energy is putting their money to work in the state, they are currently the second-largest investor and the seventh-largest employer in Michigan.
"Consumers Energy has been a driving force behind our PMBC initiative from the start and we commend the company for its commitment to growing its business with Michigan suppliers," said Michael A. Finney, president and CEO of the Michigan Economic Development Corporation.
The MEDC is encouraging manufacturers, developers, and service providers to take full advantage of their new website, www.puremichiganb2b.com, by creating a free business profile and listing all of the services that they can provide. It can also be used as a great tool for a company in search of a Michigan source for products and services.
Michigan State University Extension has had a unique partnership relationship with the regional economic development organization Northern Lakes Economic Alliance (NLEA) for more than 20 years. Recognizing the strength of combining resources, this partnership focuses on economic development, entrepreneurship growth and community infrastructure throughout a four-county region in the northwest Lower Peninsula, specifically Antrim, Charlevoix, Cheboygan and Emmet counties. As a result, the NLEA utilizes resources offered through MSU Extension as it provides leadership to state-wide programs sponsored by MSU Extension.