Consumers have many reasons to celebrate "June Dairy Month"
Milk, cheese, yogurt and more – dairy farmers provide consumers with an abundant selection of healthy, safe and nutritious food.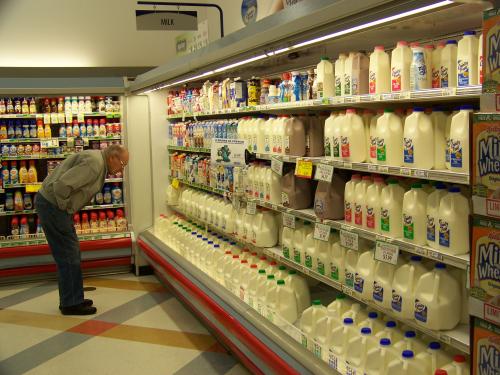 "National Milk Month" was established in 1937 in an effort to help stabilize demand for milk during peak production periods. The original theme was "Keep Youthful-Drink Milk" and it ran from June 10 to July 10. Two years later, "June Dairy Month" became the official title to celebrate the industry and to encourage consumption and use of milk and other dairy products. Today, producers and consumers continue to recognize the dairy industry during the month of June.
In an effort to understand the importance of the dairy industry in Michigan, consider the following statistics reported in the United States Department of Agriculture's (USDA) February milk production report. In 2012, dairy cows in Michigan produced approximately 8.9 billion pounds of milk. The state ranked eighth in milk production, producing 4.4 percent of the nation's milk. Michigan farmers care for 375,000 dairy cows and the average cow produces approximately 23,700 pounds of milk each year. Overall, the Michigan dairy industry contributes $14.7 billion to the state's economy.
There are many ways to celebrate June Dairy Month:
Consider attending one of the Michigan State University Extension Breakfast on the Farm events. These events provide a first-hand look at modern agriculture and offer visitors a free breakfast and self-guided farm tour.
Visit www.nationaldairycouncil.org and www.udim.org for new recipes that feature dairy products.
Plan a fun dairy themed event, such as an ice-cream or frozen yogurt social for your family and friends.
Visit your local library and check-out books about dairy farming.
Virtually meet Michigan farmers and learn how they care for their animals and land by visiting www.michigandairynewsbureau.org.
Learn to identify Michigan-produced milk at www.milkislocal.com/resources
Make your own butter by filling a small container (with lid) 2/3 full with whipping cream. After securing the lid, shake the container briskly for 5-10 minutes until the butter is a solid lump in the jar. Pour off the buttermilk and enjoy!
Thanks to dairy farmers and the dairy industry, the dairy case is full of safe, healthy, nutrient-rich dairy foods to suit individual consumer needs and preferences. Browse your local grocery store and you will see an incredible variety of dairy products including milk, cheese of all sorts, yogurt of every flavor, ice cream and more. Enjoy June Dairy Month and celebrate Michigan dairy farmers and the Michigan dairy industry.