Cooking Matters makes a difference with Michigan families
NBC Nightly News profiles Cooking Matters, a Michigan State University Extension offered program.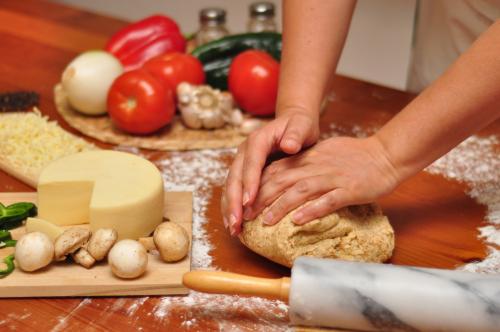 Michigan State University Extension has been partnering with Share Our Strength and Gleaners to hold nutrition education series with volunteer chefs for over 15 months. The testimonies of participants along with results of pre- and post-surveys show change and impact.
"Cooking Matters has proven to be both beneficial and life changing for our families. It's nice to know that what we do makes a difference, " said Candy Thick, Michigan State University Extension program instructor in Shiawasee County.
Cooking Matters was profiled on NBC Nightly News on Saturday, in the show's "Making a Difference" segment. If you missed it, you can watch it at http://nbcnews.to/121lPBS.
Participants comments included, "I really enjoyed the class, learned a lot. I have forever changed my cooking, we are always thinking of healthy choices. Thanks to Cooking Matters I have been letting my 3-year-old son help in the kitchen. He is proud to do even the smallest jobs to help and is always eager to be the taste tester or mixer. I am recommending this class to all of my friends."
"I'm reading the labels even more. Paying more attention to what I'm buying. I'm buying the same type item, but with better ingredients."
"The cooking tips were good; enjoyed the class and instructor; liked the recipes in the book; cooking healthier and reading labels more frequently."
"I learned to not keep food out on counter to defrost, also to use a meat thermometer. I love trying some of the new recipes with my daughter!"
There are many more stories of change throughout the states, just like these. MSU Extension graduated 373 adults and 51 youth from a total of 44 courses in 32 counties between October 2011 and September 2012. Eighty-nine percent of participants complete at least four out of six classes! October through November 2012 had 17 classes scheduled.
The Cooking Matters program equips families receiving food benefits with skills to stretch their food budgets, cook healthy meals at home and put nutrition information into practice. With record numbers of Americans on food stamps – half of them children – we have to use every strategy available to help families stretch their food dollars. This is all part of Share Our Strength's larger No Kid Hungry strategy to end childhood hunger – by connecting kids in need with nutritious food and teaching families how to cook healthy, affordable meals. The No Kid Hungry campaign surrounds children with healthy food where they live, learn and play.
NBC posted a longer clip on its website, available at http://nbcnews.to/XEivVG.
To find a Cooking Matters program near you, contact your local MSU Extension office.