Cool combo containers to consider
Combination containers are popular among consumers for instant color. Let's see some cool combinations at garden centers in west Michigan during the spring of 2021 to inspire you for next season.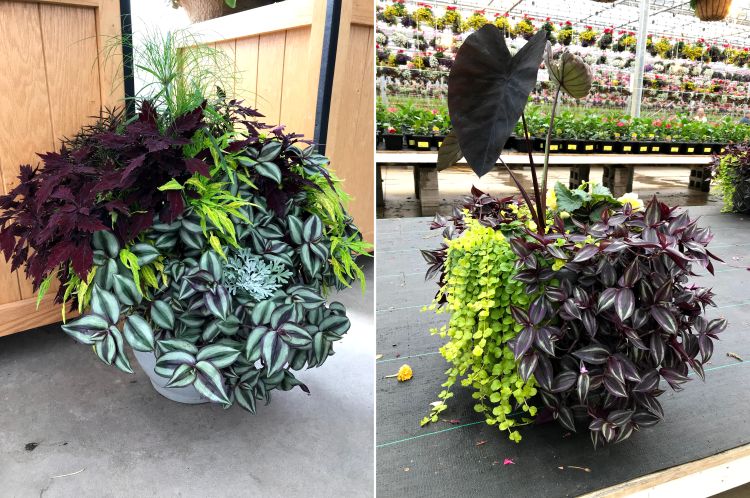 Combination planters are popular for consumers who want instant color and beauty for their homes. They are particularly great for retailers because they can showcase their products, emphasize design and create an eye-catching entrance to the store or displays in the store. They provide an instant garden for consumers and meet the instant gratification they've come to desire.
West Michigan garden retailers put together some very interesting and cool combinations for the spring of 2021. Let's take a look at some great examples.
Tropical thrillers
Combination planters often have a thriller (tall plant for interest), filler (medium plant that brings color or texture) and a spiller (plant to overhang the edge of the container). This year, garden retailers experimented with some interesting thrillers that created unusual looks.
Tropical ferns
This combination outside of a west Michigan retailer's store was sure to entice consumers. The tropical fern as a thriller plant is particularly interesting for a container in the Midwest. It also acted to add significant height as the plants were in an extra tall, gorgeous blue AquaPot, a self-watering, ceramic container.
Finish the look: pink salvia, gomphrena, sweet potato vine and white petunia.
Peace lily
This peace lily was a surprising and gorgeous choice, especially with the geometric, tall, gray ceramic container. It may be a surprising choice to see in an outdoor setting, but maybe also not surprising since the foliage plant market is on fire.
Finish the look: impatiens, sweet potato vine and pink polka dot plant.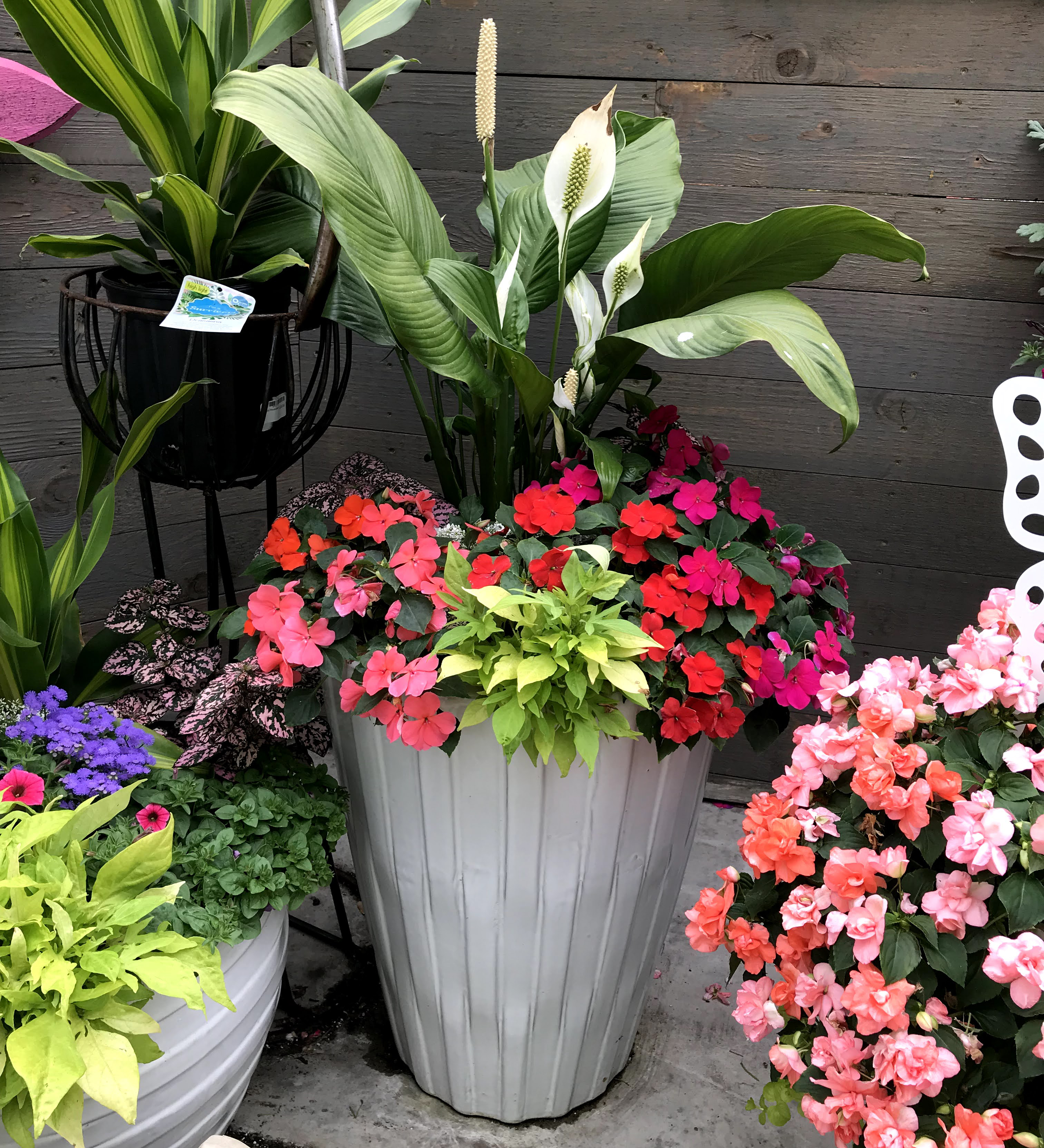 Bloodleaf: Iresine
Look—another foliage plant made the list of exciting and interesting thrillers! Bloodleaf, Iresine 'Blazin' Rose,' is another foliage plant that grows to be a small shrub in tropical climates but adds so much interest to combination containers.
Finish the look: Who Knew Orleans 22 Trixi Combo (Ball Seed: NEW Calibrachoa MiniFamous Uno Yellow+Red Vein 22, Petunia Headliner Red and Verbena Lascar Mango Orange), Wandering Jew 'Rainbow,' and Proven Accents Icicles Licorice Plant.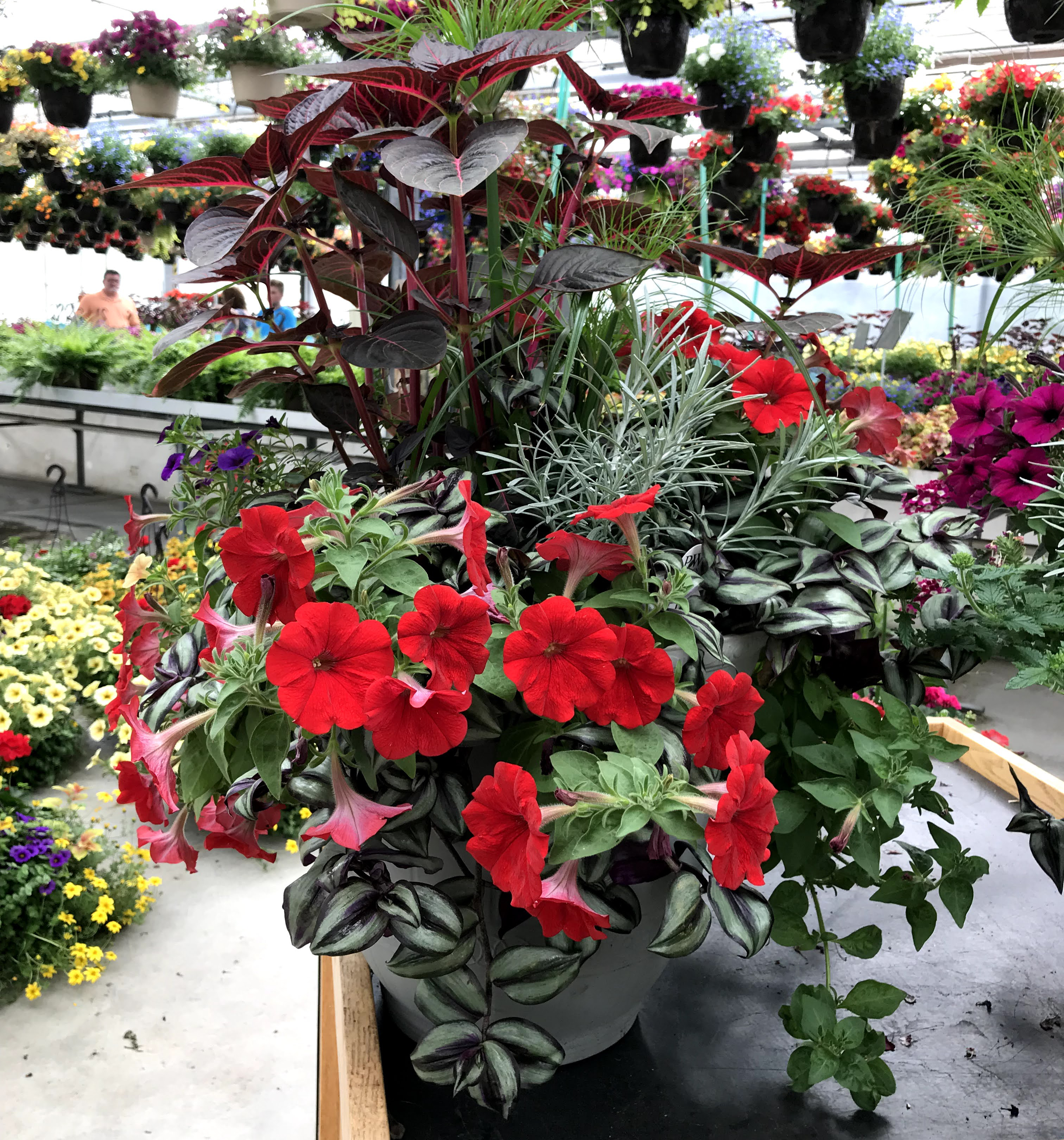 Flower power
What catches a consumers eye more than flower power? Let's see some awesome examples!
Stellar tuberous begonia combos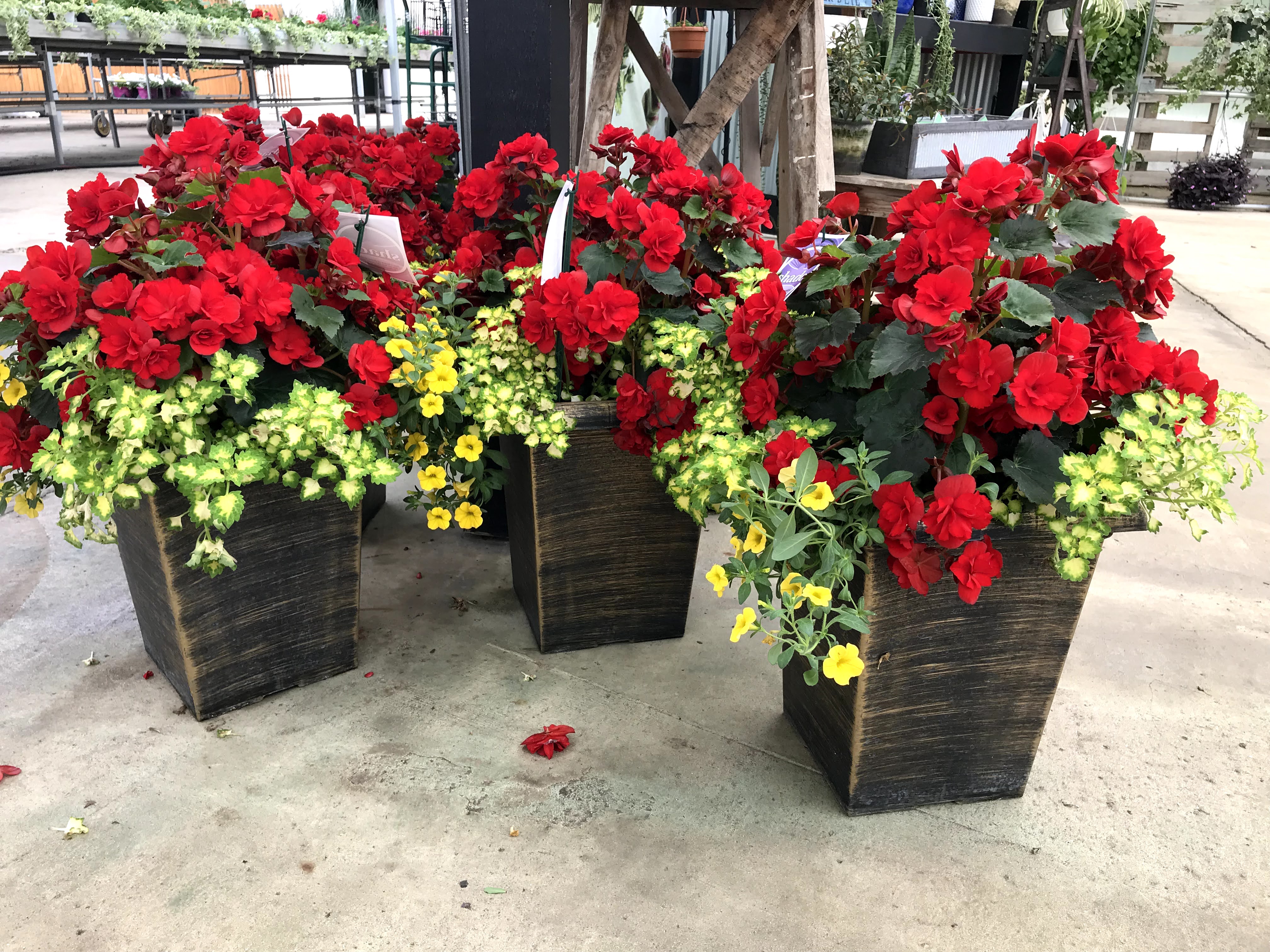 These petite patio planters featured Solenia Red Orange tuberous begonias, which were very showstopping in the retail. The Great Falls Yosemite coleus mixed with the yellow calibrachoa created such an awesome contrast between the red blossoms and the dark container.
Sunset color combo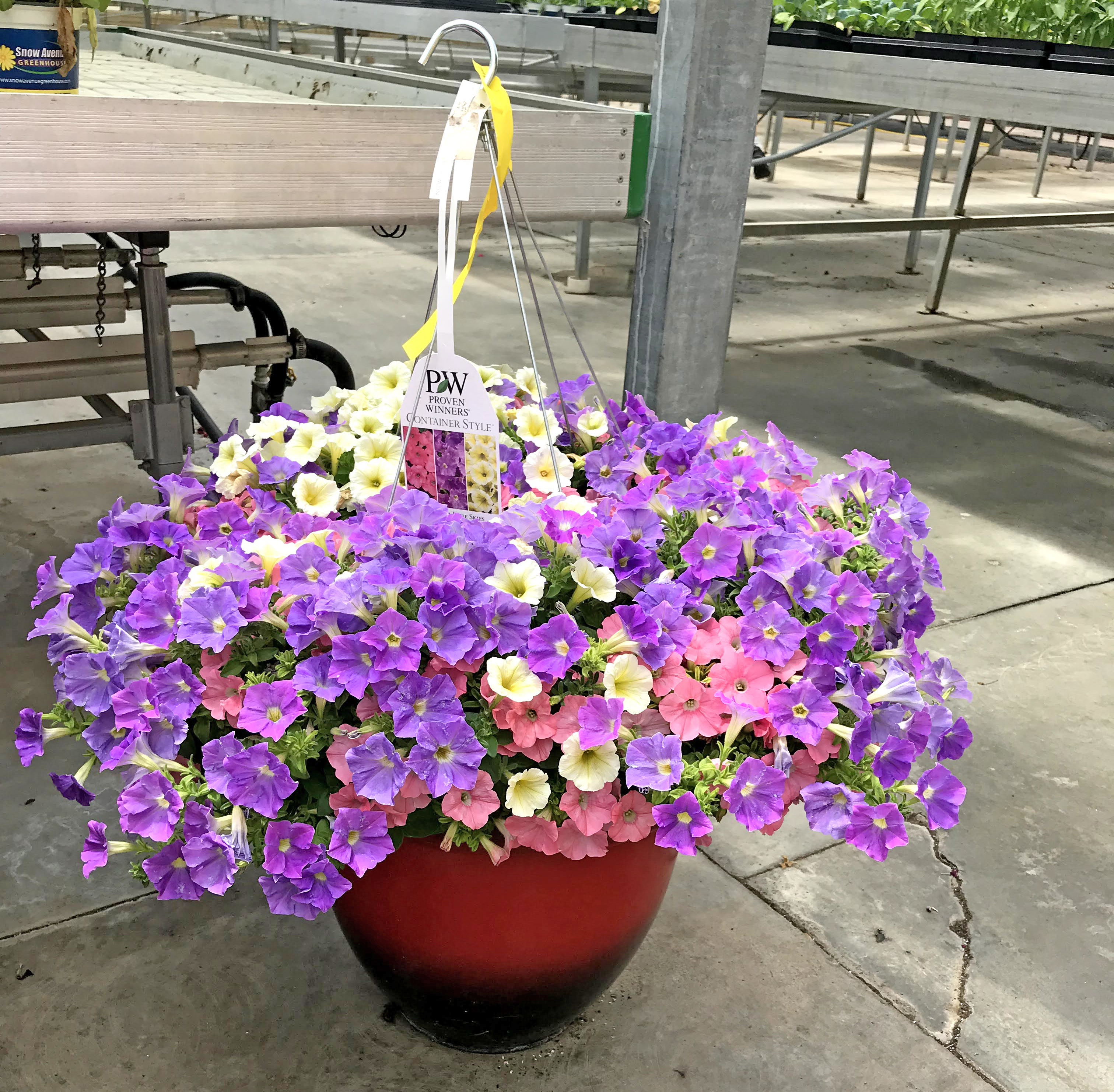 This combination from Proven Winners is like sitting on the beach watching a glamorous sunset through the pinks and purples of clouds. This combination is Bermuda Blue Skies, which contains Supertunia Blue Skies, Bermuda Beach and Limoncello. This was actually grown as a hanging basket but the retailer helped consumers visualize how it would look in their own container—stunning!
The glamorous rainbow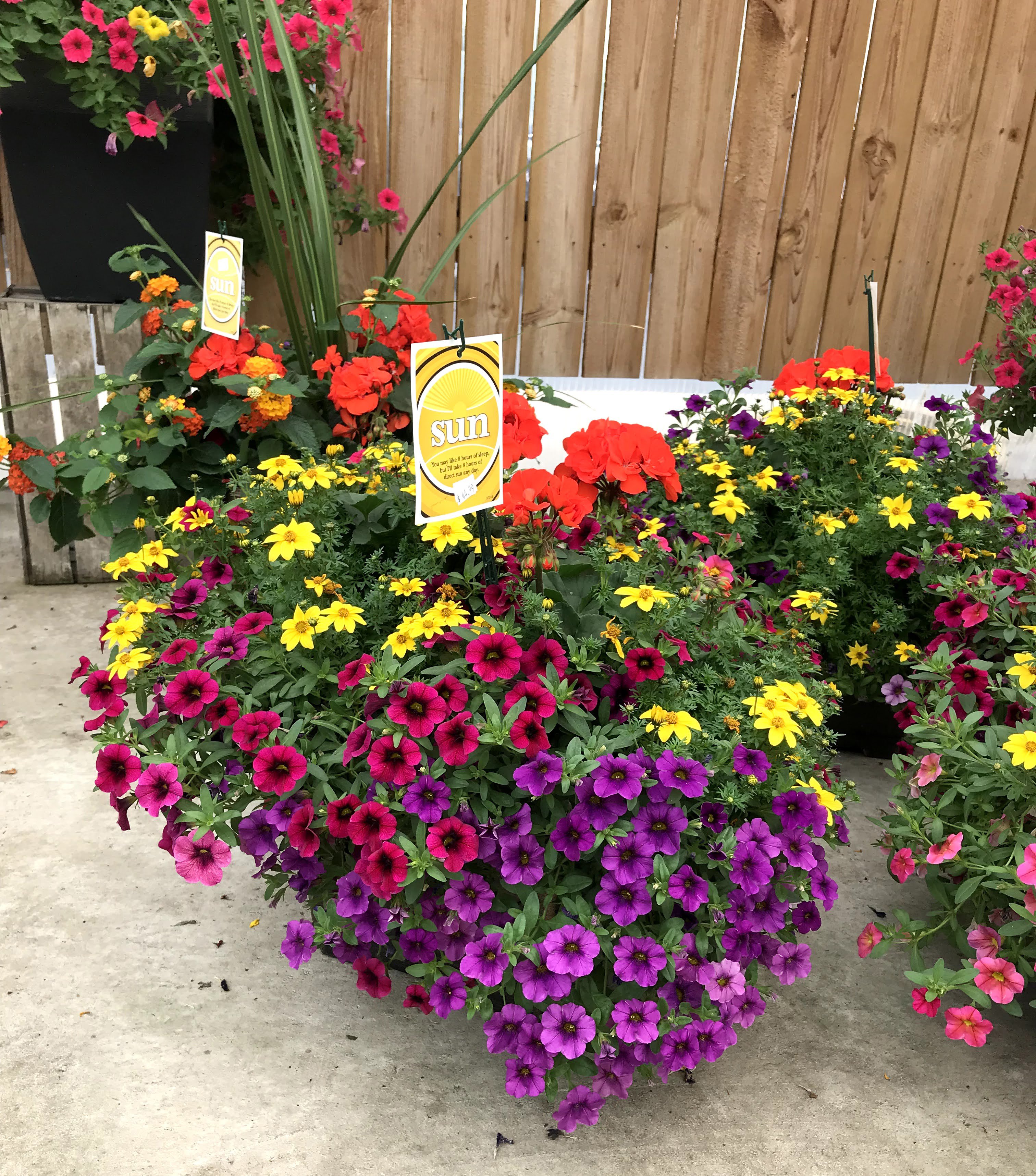 This awesome container for sunny locations features purple and magenta calibrachoa, bidens and orange geraniums. It certainly does have flower power—why stick to a monochromatic color when you can have them all?
Tempting textures
Combinations planters do not have to be all flower power in order to be colorful and awesome looking!
Deep purples and lime green containers
There were two similar combinations that combined deep purple foliage and lime green foliage to create drama in the containers. The thriller plant differed in the two containers: one used a Prover Winners King Tut ornamental grass while the other used a dark-leafed elephant ear.
Finish the look: lime green sweet potato vine or creeping jenny, wandering jew and dark-leafed coleus or tuberous begonia.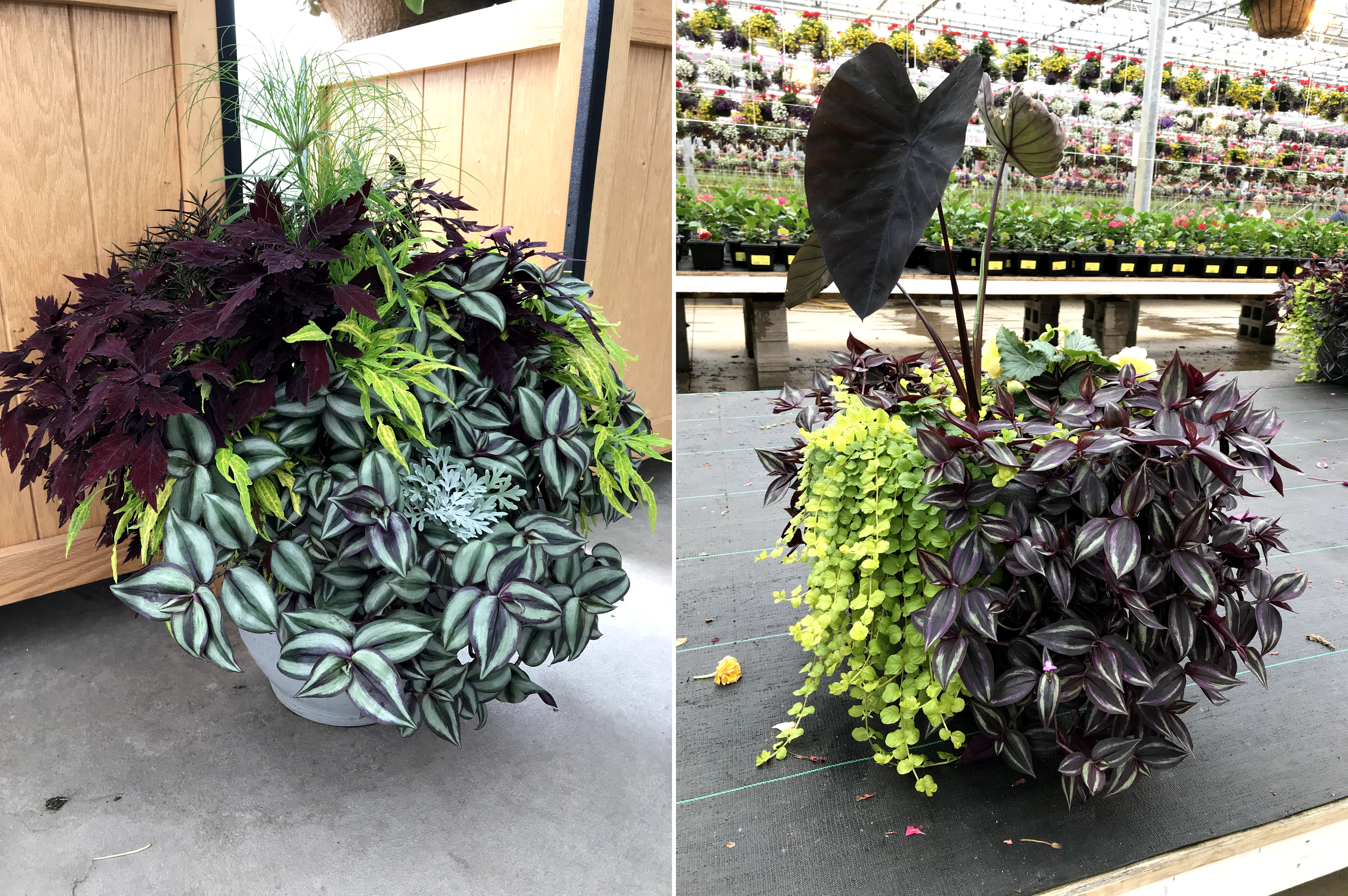 Feature: Silver Angel Wings Senecio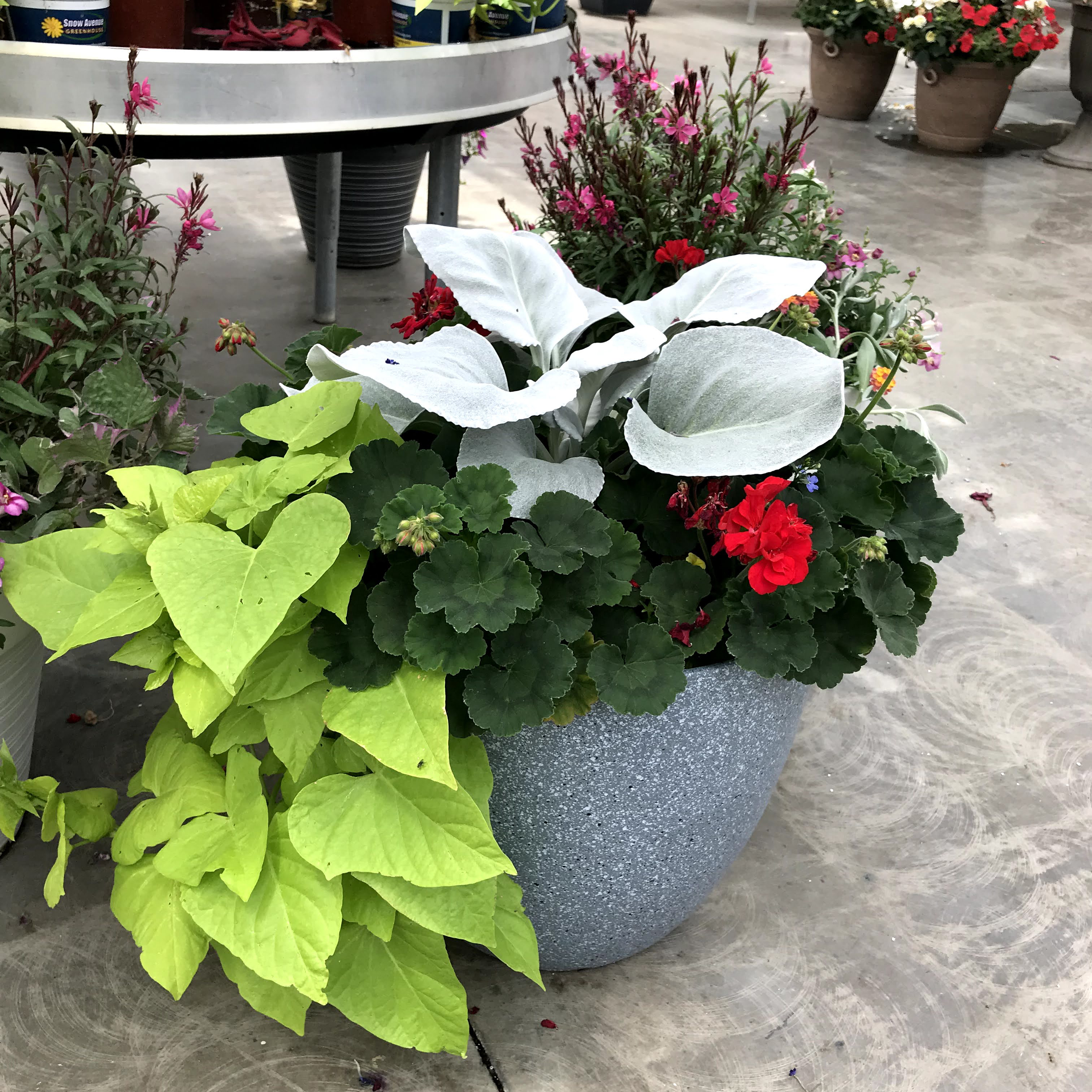 This combination features an Angel Wings Senecio (Senecio candicans), a spectacular silver-leafed foliage plant that is more refined than mullein, larger than lamb's ear or dusty miller. It will get to be 10-16 inches wide and tall and really echo the gray pottery. The lime sweet potato vine really sets off the silver foliage.
Finish the look: red geraniums and salvia. This would look even sharper in a dark container.
Caladium and impatiens for shade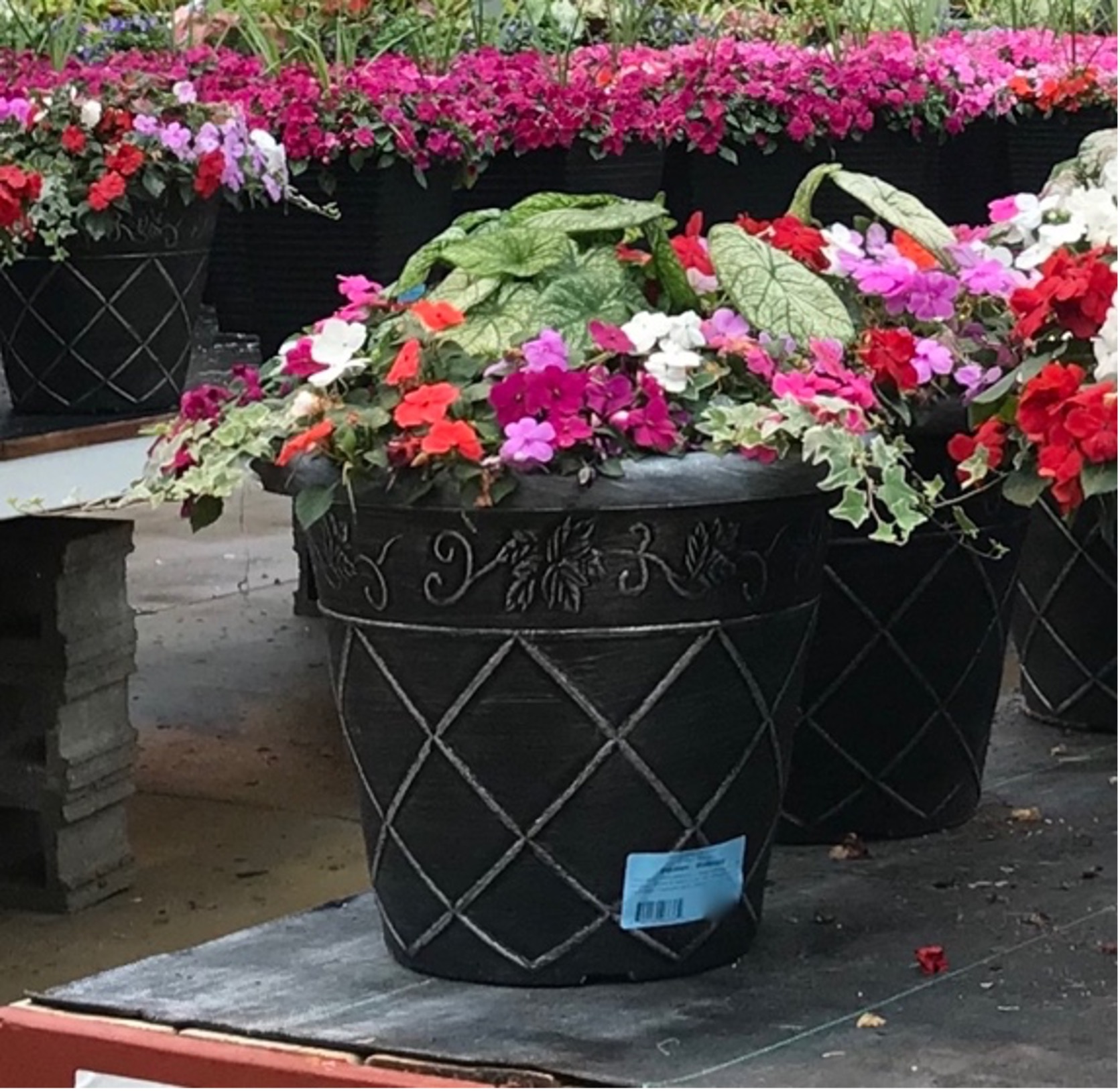 This combination container for shade brings both the flower power and color and texture. The white caladium in the middle is echoed by the variegated English ivy. The rainbow of colorful impatiens brings this container to a whole new level.
Consider using a color wheel to create bright direct contrasts (opposites on the color wheel) or more subtle contrasts (beside each other on the color wheel). You can use it in the planning process or display it where customers will see it and can use it in creating their own combinations.