Corn earworm in sweet corn trapping map for August 6-12, 2012
Corn earworm adults are abundant in southern Michigan.
It is recommended that sweet corn growers who have their own monitoring traps change lures every two weeks, so they can detect corn earworm activity in their fields. Corn with fresh silk is most susceptible for earworm egg laying, so place your trap near a field that still has fresh silk.
For more information on traps and lures as well as corn earworm biology and management, see the 2012 article Corn earworm activity is beginning in Michigan sweet corn fields.
See the map below for corn earworm activity in pheromone traps for August 6 - 12, 2012.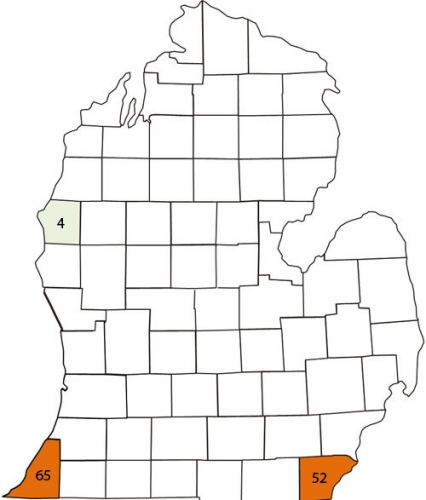 Numbers on map represent the number of corn earworms
caught between Aug. 6-12, 2012. Each number is the total
number of moths caught during a week in a single
pheromone trap placed near a sweet corn field.
To learn more about corn earworm biology, trapping and management, see the recent MSU Extension News articles:
Dr. Szendrei's work is funded in part by MSU's AgBioResearch.